Nintendo teams up with Edible for Mario Kart 8 Deluxe promotion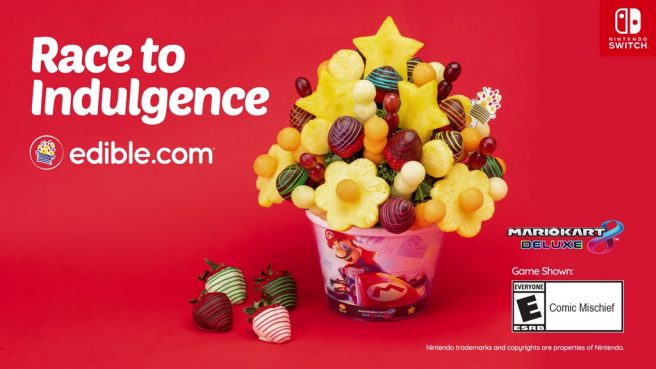 Nintendo has announced a new partnership with Edible centered around Mario Kart 8 Deluxe. Starting next week, a wide array of delicious gifts will be available that tie in with the Switch game.
Below are all of the pertinent details:
Edible offers a wide selection of delicious fresh fruit arrangements, baked goods from its Edible Bakeshop brand and other treats. With the new Nintendo and Edible partnership, you'll be able to gift friends and loved ones Mario Kart 8 Deluxe inspired surprises beginning July 12 in the U.S. and Canada. From game night to date night, to birthdays and back-to-school bashes, get ready to deliver some turbo-charged smiles. Let the people in your life know you're thinking of them with Mario Kart 8 Deluxe themed treats and Super Mario themed balloons!

For a mid-summer Nintendo Switch party spectacle, why not splurge on the new Rainbow Road Arrangement? Like its acclaimed Mario Kart course namesake, this arrangement features a dazzling array of colors, comprised of fresh pineapple coins and stars, swizzle rainbow berries, grapes and melon.

If you'd like to make someone's birthday feel extra festive, the Cookie & Fruit Power-Up Birthday Bundle features dipped fresh fruit, pineapple stars, cookie sandwiches and a Super Mario Themed Birthday Balloon. Or, when you need to make a grand gesture, nothing says, "I care," quite like the vibrant Flower Cup FruitFlowers bundle. If you'd like to see the full suite of sweet-natured Nintendo-themed gifts, glide on over to Edible's website. Plus, Edible offers the convenience of same-day and free next-day delivery.
We'll also mention that Edible is also holding a series of sweepstakes, offering consumers the chance to win a Nintendo prize pack containing a Switch system and a digital download code for Mario Kart 8 Deluxe. More information can be found here.
Source: Nintendo PR
Leave a Reply