nWay on how the Power Rangers: Battle for the Grid Street Fighter Pack came to be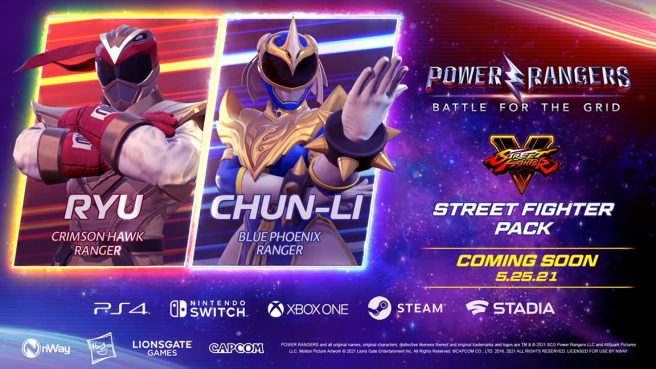 Two years after release, Power Rangers: Battle for the Grid still has major DLC on the way. nWay has teamed up with Capcom to introduce a new Street Fighter Pack.
In an interview with IGN, nWay's Rose Silvestre explained how the collaboration came to be. He told the site:
"[Power Rangers creator] Saban introduced us to Capcom before Power Rangers was acquired by Hasbro. We met with Capcom and it turns out the producer for Street Fighter, Yoshinori Ono, was a big fan of Power Rangers. Capcom suggested that it would be cool if Ryu and Chun-Li wore Power Rangers suits and we said heck yeah."

"Capcom had originally submitted early concepts, which our team built off of in collaboration with their then Udon Entertainment Comic Book artist. Inspired by these designs, we then worked with Saban to further develop additional designs such as the Ranger Coin which also led to all parties agreeing on an animal theme, Crimson Hawk and Blue Phoenix. As a result, our art team was able to create a unique ranger suit that would exist in both universes."
The Street Fighter Pack for Power Rangers: Battle for the Grid releases on May 25. Ryu and Chun-Li will become Crimson Hawk Ranger and Blue Phoenix Ranger as part of the DLC, and some "exclusive skins" have been teased as well.
We have a trailer for the Street Fighter Pack here.
Leave a Reply