Our favorite Indie World games, Nintendo's new mystery company, and more! (Plus giveaway results!) | Nintendo Everything Refresh Ep. 032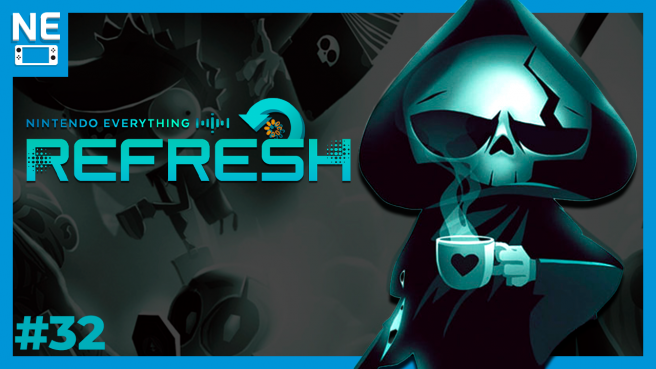 A surprise Indie World Showcase last week revealed a ton of creative, smaller-scale games coming to Switch over the next few months, making our wishlists even bigger! Join your hosts Nick, Nicolas and Luiz as they rank their favorite games from the showcase, including both exciting new titles (Pepper Grinder!) and some updates on some long-awaited releases (Sports Story!). They'll also discuss a mysterious new partnership between Nintendo and mobile game developer DeNA, our hands-on impressions of Sonic Frontiers, and so much more!
Also: our giveaway winners have been announced! If you are one of the five YouTube listeners below: congratulations! Help us get in contact with you by leaving a safe way for us to contact you (ie: Twitter handle) over in the YouTube comments for the previous episode. We will try and get you your code as soon as we can!
WINNERS
Fizzwin
Enrique Seeligman
PikaPhantom
Paco Stasol
Michael Carrion
Our show is available on most major streaming platforms, including Spotify, Apple Podcasts, Google Podcasts, Amazon Music and Audible, or you can check out the video version on Youtube.
Direct downloads are also available for free through our friends at ListenNotes. Have ideas or suggestions for the show, or want to submit a fan question or topic for a future episode? Let us know what you think – and thanks for listening!
➡ Inquiries/Fan Mail: [email protected]
➡ Visit the site: https://nintendoeverything.com
Episode Segments:
(00:00) | Intro
(01:29) | Giveaway results!
(03:05) | Our favorite Indie World games
(29:16) | Everything we learned from Nintendo's latest Q&A
(48;23) | Pokemon Scarlet/Violet gets… an Ed Sheeran trailer?
(52:41) | LEGO blocks Zelda fan submissions
(56:44) | More Falcom JRPGs coming to Switch
(59:41) | Sonic Frontiers impressions
(01:03:45) | Notable recent releases
(01:09:21) | What we've been playing?
Hosts:
Nick Serpa: @ndserpa
Nicolas Shadday: @Dayshade1999
Dennis Gagliardotto: @LyonHart_
Luiz Estrella: @Luizestrella_
Leave a Reply