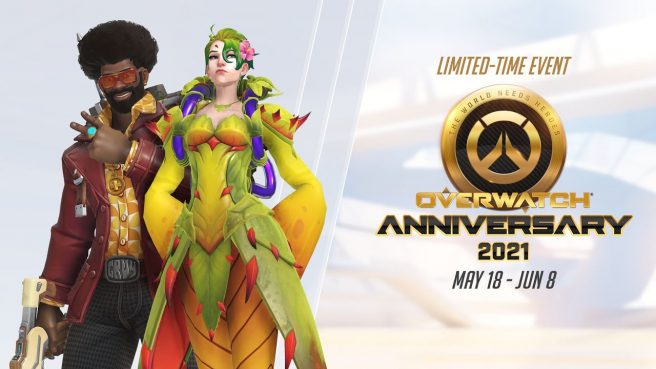 Overwatch is hosting a new anniversary event, which will highlight the game modes players have enjoyed across the years on a daily rotating schedule. Winter Wonderland, Halloween Terror, Summer Games, Archives, and Lunar New Year brawls will all make a return on specific days and all seasonal cosmetics will also be available to unlock.
Here's information about rewards and cosmetics plus a trailer:
New Way to Earn Rewards

This year, we're introducing a new way to earn rewards for Anniversary.
Play 9 / 18 / 27 games in Quick Play, Arcade, or Competitive Play to earn rewards
Winning games doubles your points

New Cosmetics

Legendary Skins:
Black Cat Sombra
Funky Baptiste
Junkfood Junkrat
Venus Moira
Gladiator Doomfist
Epic Skins:
Week 1: Cybermedic Ana
Week 2: Bird of Paradise Echo
Week 3: 8 Ball Wrecking Ball
The Overwatch anniversary event will run between May 18 and June 8.
Source: Blizzard PR
Leave a Reply