Pac-Man 99 gains free Tank Battalion theme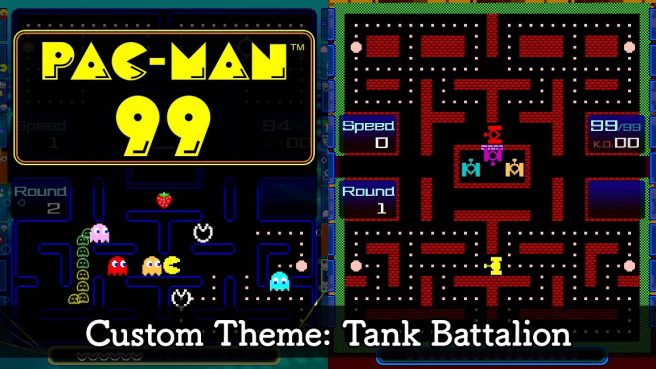 Pac-Man 99 has gone live with its latest theme, with players now being able to claim a design based on Tank Battalion. It's a completely free download.
Tank Battalion follows Hopping Mappy and Splatterhouse: Wanpaku Graffiti as the latest free themes in Pac-Man 99. A ton of other designs are available, including Baraduke, Bravoman, Cosmo Gang the Video, Dig Dug, Dragon Buster, Galaga, Namco Classics 1-5, New Rally-X, Rolling Thunder, The Genji and the Heike Clans, The Legend of "Valkyrie", The Return of Ishtar, The Tower of Druaga, Wonder Momo, Xevious, and Yokai Dochuki.
Other than themes like the new one for Tank Battalion, Pac-Man 99 has plenty of other DLC. Players can unlock CPU Battle Mode, Password Match, Score Attack Mode, Blind Time Attack Mode, 8 Pac-Man arrangements, and themes in the paid Mode Unlock. There's also the Deluxe Pack, which contains everything in Mode Unlock, but throws in some extra themes.
Pac-Man 99 first came to Switch back in April. If you have an active Nintendo Switch Online subscription, you can play the title now. The game can be downloaded from the eShop.
Pac-Man 99 follows the successful Tetris 99. But whereas Tetris 99 was published by Nintendo, Pac-Man 99 comes from Bandai Namco.
Leave a Reply