PC Building Simulator – "Console Mega Update" out now on Switch (version 1.2.0)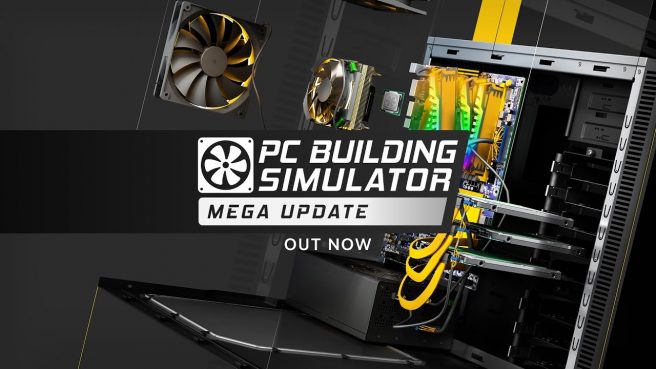 PC Building Simulator has received its "Console Mega Update" on Switch. Version 1.2.0 features over 250 all-new parts, quality of life improvements, and a handy new filter system in the shop and inventory. Players can also purchase Workshop DLCs from the game's PC counterpart, spanning five world class brands: Razer, Republic of Gamers, NZXT, Overclockers UK and AORUS.
Here's a proper overview of the update:
New partners

Across the last few months, in addition to working on the console update, we've been in close collaboration with new and existing partners. Today we can share that excitement with even more of the community, launching Kolink and SteelSeries parts for the first time on each platform.

New Tools

With the introduction of a huge number of new parts, it was important to us to refine the building experience too. We've introduced filter options for both the store and inventory, similar to the ones recently added on PC. Additionally, to help players keep track of increasingly complex jobs, we've included the latest version of the Cloud Notes application which allows players to create colour coded notes in game.

Workshop DLC

Along with the patch, we're also releasing all current workshop DLCs, bringing both the shadowy AORUS workshop, and neon green Razer workshop to life – optimised for each console (along with seasonally appropriate Razer toaster). When purchasing a DLC, players may have to restart their game before it can be selected, depending on what platform they're playing on.

By the numbers

Several months ago, our team pledged to update the PC Building experience on console. Today's version jump brings it in line with PC patch 1.10.1 and gives us a chance to share some extra numbers on how we got here. Counting each DLC page, platform, region, and language, over the last month we've created around 170 store pages including nearly 200 different art assets. As the first console delivery for our combined team, starting with 3 updates and 15 DLC releases has been an immense challenge and we hope it shows our commitment to the players. Special thanks to the team at Pingle Studios who've been working with us throughout the update and who's experience has been invaluable.
Watch a trailer for the new Console Mega Update below.
Leave a Reply