Pendula Swing: The Complete Journey out on Switch this week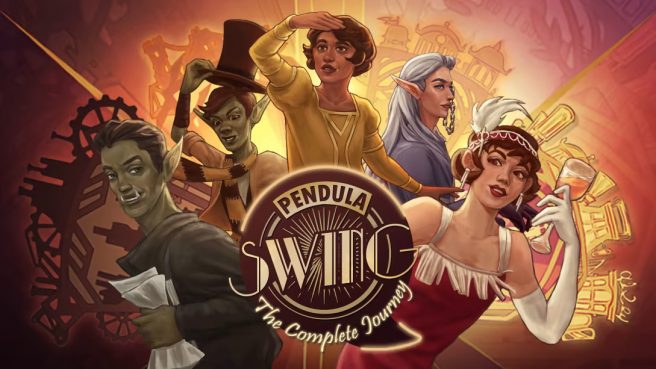 Pendula Swing: The Complete Journey was announced for Switch last month, but a release date wasn't confirmed at the time. RedDeerGames and Valiant have now sent out word that the the title will be available this week, February 11.
Below is some information about the point-and-click adventure game:
Pendula Swing is a completely unique, colorful, and full of romance point & click adventure game set in a fantasy version of the unforgettable period of the American 1920s.

You will be overwhelmed by the extensive world, the huge variety of characters, the range of options and gameplay possibilities, and most of all – LOVE!

STRONG FEMALE PROTAGONIST
Play as a unique protagonist – Brialynne Donu Tenúm – a dwarven heroine and savior of this world, well-known and admired by many celebrities, who can afford anything she wants.

YOU INSPIRE ADMIRATION
While visiting the world you will discover all kinds of expressions of your adoration – you will find statues, books, and movies, you will be in the lead role, and even have a fan club.

Everyone knows you, they want to be like you, they want your attention!

ROMANCE!
You will meet on your journey hundreds of various characters, different races – elves, dwarves, goblins, orcs, and other fantastic creatures besides humans, from LGBTQ+ to wheelchairs, with unique personalities, tastes, and sometimes disabilities, and with whom you can have all sorts of social interactions!

OR FIND A TRUE LOVE
And as you are a widow who has mourned the passing of your wife for a long time you can now change your life and let love be back in your life!

With over 160 quests, storylines and puzzles, you will not be disappointed! If you feel longing, summon your wife's spirit, kiss your dates, give flowers, be extravagantly generous or cheap and greedy, as the dwarves say, and much more!
We have a trailer for Pendula Swing: The Complete Journey below.
Pendula Swing: The Complete Journey will cost $9.99 on the Switch eShop.
Leave a Reply