Pinball FX3 dev responds to censored elements in Williams Pinball DLC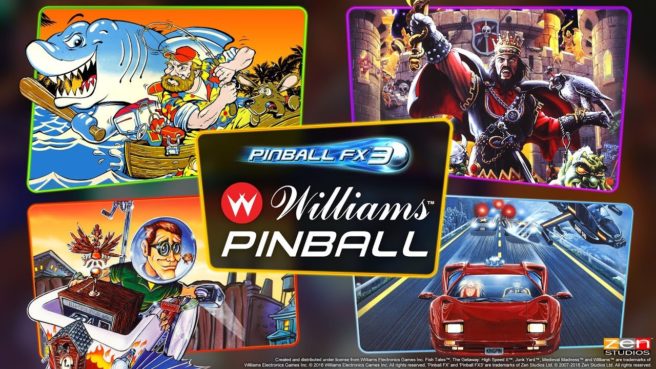 Zen Studios published brand new DLC for Pinball FX3 just a few days ago. For the first time, Bally/Williams pinball tables were offered to players. Medieval Madness, Fish Tales, Junk Yard, and The Getaway have been recreated digitally, but with some alterations.
Ars Technica reports that the new tables have "many modifications to the original playfield, backglass, and side table art." There are other changes as well to cover up scantily clad women, remove blood from swords, replace beer cans with soda, and take away cigars from characters smoking.
Zen Studios has since responded to the situation. VP of publishing Mel Kirk explained that, ultimately, Pinball FX3 is intended to appeal to everyone of all ages and the company must meet the ESRB's guidelines.
Kirk stated:
"We pride ourselves on Pinball FX being a very family-friendly game. People expect a specific type of game associated with certain types of content. I'm not going to jeopardize all those relationships, all that history, all those families that play the game for some bits of artwork."

"We've been penalized ourselves by the ESRB previously. We made some mistakes. We can't afford to be caught again."

"I don't want to minimize their importance, but I do believe it's a very vocal minority [complaining] because our sales for our first few days are through the roof, off the chart."

"In extreme cases like this, something Zen has considered for a while is, is there another iteration of Pinball FX that can exist? It's a completely different game experience, it has more mature content, it can have blood and guts, there can be more mature themes, simulated gambling. That is something we're actively talking about internally right now… It's really just a matter of how much we want to focus on this. Does it bother us enough that people are mad at us?… It's a vocal minority, but nonetheless they're very important and we want to make them happy too."

"For all the hardcore players that don't like what we've done, we have just as many people saying thank you for doing this, because now my kids can play too, and they now know these games. If the artwork and some of the things that are more mature are super important to people, we'll hear them and we'll try to make those available, maybe under a different label or a different game. But FX3 is a family-friendly game."

"I have daughters myself that are 8 and 10 and I'm so excited that I can let them play Medieval Madness and not worry about some of the things that are in there that they're not ready for."
Leave a Reply