Pokemon GO adding Tapu Bulu in Spring into Spring event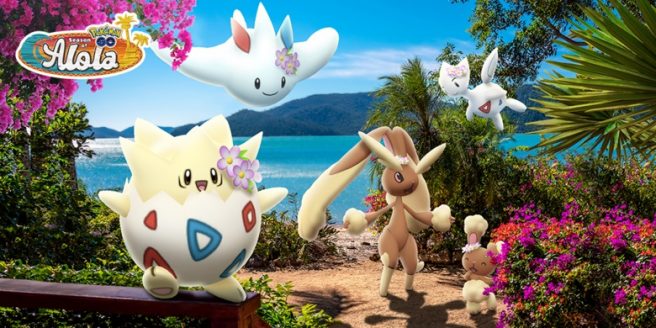 Niantic has unveiled details about a new Spring into Spring event for Pokemon GO, which will feature the introduction of Tapu Bulu. The event is set to take place between Tuesday, April 12, 2022, at 10 AM to Monday, April 18, 2022, at 8 PM local time.
The following surprises and bonuses are planned:
Trainer will see the following Pokémon making its Pokémon GO debut appearance:
Togetic wearing a flower crown
Togekiss wearing a flower crown (Obtained through evolution)
Lopunny wearing a flower crown (Obtained through evolution)
Tapu Bulu, Legendary Pokémon and guardian deity of Ula'ula Island.
Trainers can look forward to the following event bonuses:
2× Hatch Candy
½ Hatch Distance
2× Lucky Egg Duration
Team GO Rocket grunts will have more Shadow Whismur and Shadow Exeggcute.
Tapu Bulu will be appearing in five-star raids
Trainers who complete the flowery Collection Challenge will earn 2,000 XP, 2,000 Stardust, and an encounter with Togetic wearing a flower crown.
Trainers will see various Pokémon and costumed Pokémon in flower crowns in the wild, hatching from Eggs and completing Field Research tasks.
Niantic also announced a Limited Research day: An Egg-citing Spring Surprise. This will be held between Saturday, April 16, 2022, from 11 AM to 2 PM local time. It'll include:
Trainers who spin Photo Discs at PokéStops and complete the Limited Research tasks will encounter Exeggcute*.
Evolve Exeggcute during the event to get an Alolan Exeggcutor that knows the Charged Attack Draco Meteor.
In addition to the existing Spring into Spring bonuses, Trainers will also enjoy 2× Catch XP.
During the three-hour event, Trainers can also encounter the following Pokémon in the wild:
Bulbasaur, Oddish, Paras, Bellsprout, Tangela, Chikorita, Sunkern, Treecko, Seedot

*If Trainers are lucky, they might encounter a Shiny Pokémon.
More information about the Spring into Spring event for Pokemon GO with Tapu Bulu can be found here.
Source: Niantic PR
Leave a Reply