Pokemon GO Adventure Week to add Tyrunt and Amaura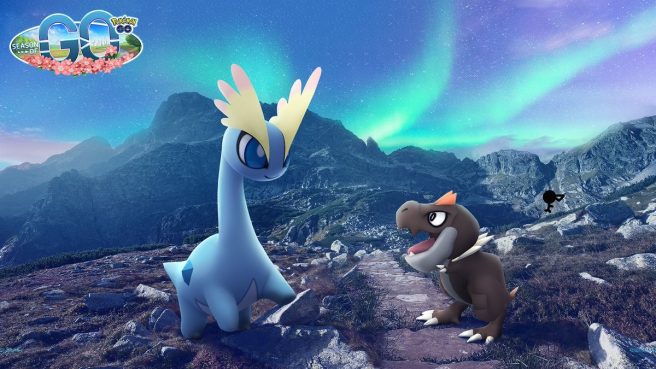 Tyrunt and Amaura are about to join Pokemon GO as part of the game's Adventure Week event. This will be happening between Tuesday, June 7, 2022, at 10 AM to Sunday, June 12, 2022, at 8 PM local time. Rock-type and Fossil Pokemon will be featured, along with various bonuses.
The full details on the Pokemon GO Adventure Week event with Tyrunt and Amaura are as follows:

Pokémon Debuts – For the first time in Pokémon GO, Trainers will be able to encounter the following Pokémon in Field Research or Eggs:
Tyrunt, Amaura in Pokemon GO
If Trainers are lucky: Shiny Tirtouga, Shiny Archen
Event Bonuses – Trainers can enjoy the following bonuses during the event:
2× XP for spinning PokéStops
5× bonus XP for spinning a PokéStop for the first time
Encounters – The following Pokémon will be available through:
Wild Encounters
Rhyhorn, Omanyte, Kabuto, Larvitar, Aron, Lileep, Anorith, Cranidos, Shieldon
If Trainers are lucky: Graveler, Aerodactyl, Pupitar
Raids
One-Star: Geodude*, Alolan Geodude*, Sudowoodo*, Roggenrola*
Third-Star: Rhydon, Shuckle*, Tyranitar, Aggron
Five-Star: Groudon
Mega: Mega Aerodactyl*
Field Research
Omanyte*, Kabuto*, Aerodactyl*, Lileep*, Anorith*, Cranidos*, Shieldon*, Tirtouga*, Archen*, Tyrunt, Amaura
Eggs
Shuckle*, Slugma*, Cranidos*, Shieldon*, Tirtouga*, Archen*, Tyrunt, Amaura

*If Trainers are lucky, they might encounter a Shiny Pokémon.
Pokemon GO is currently available for mobile devices via iOS and Android.
Source: Niantic PR
Leave a Reply