Pokemon GO has now made over $3 billion in lifetime revenue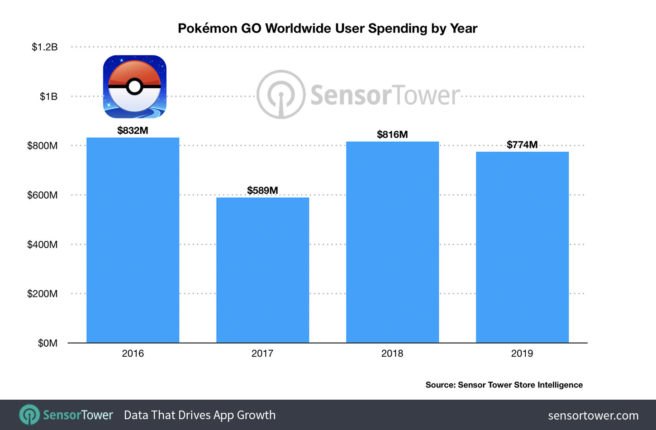 According to Sensor Tower, Pokemon GO has generated over $3 billion in lifetime gross revenue. The game earned $832.4 million in 2016, $589.3 million in 2017, $816.3 million in 2018, and $774.3 million so far in 2019. Pokemon GO is likely to set a new revenue milestone this year given the current pace.
Pokemon GO has been downloaded roughly 541 million times worldwide. There's been an average revenue per download of nearly $5.60.
The United States accounts for the majority of spending at close to $1.1 billion (36.2 percent), followed by Japan at $884.5 million (29.4 percent), and Germany at $181.6 million (6 percent). We can also say the the United States has the most downloads at 99.3 million (18.4 percent). The next closest countries are Brazil at 58.4 million (10.8 percent) and Mexico at 34 million (6.3 percent).
In terms of platform revenue, Google Play users have spent the most at over $1.6 billion (54.4 percent). The App Store makes up nearly $1.4 billion (45.6 percent) in revenue. Android also leads the way in downloads at 424.6 million (78.5 percent) compared to the App Store at 116 million (21.5 percent).
Leave a Reply