Pokemon GO Water Festival introducing Dewpider, Araquanid, and more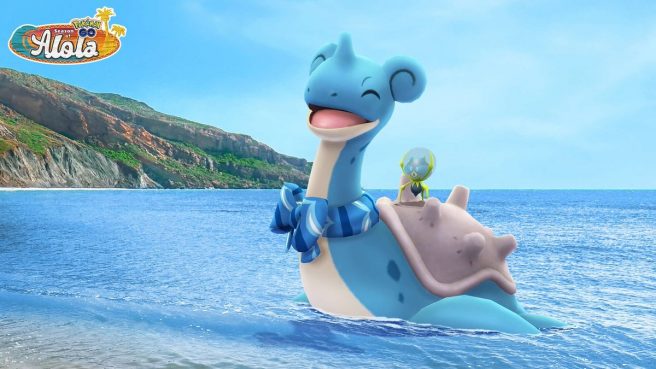 Niantic has shared details about a new Water Festival event for Pokemon GO taking place later this week featuring the introductions of Dewpider and Araquanid. On top of that, Shiny Binacle and Lapras wearing a scarf will be available.
The Pokemon GO Water Festival event will be held between Thursday, May 12, 2022, at 10 AM to Friday, May 20, 2022, at 8 PM local time. Here's a rundown of new Pokemon, events, and bonuses that are planned:
Pokémon Debuts – The following Pokémon will available for the first time in Pokémon GO:
Lapras wearing a scarf*, Dewpider, Araquanid, Shiny Binacle
Tapu Fini*, guardian deity of Poni Island, will appear in raids
Global Challenge – From Wednesday, May 11, 2022, at 1:00 p.m. PDT (GMT -7), to Saturday, May 21, 2022, at 10:00 a.m. PDT (GMT -7), if Trainers around the world can work together to catch at least 600M Water-type Pokémon during the event, Trainers can enjoy 2× Candy for catching Pokémon for the rest of the event.
Poni Island Special Research – The Season of Alola's fourth Special Research story will be available on Tuesday, May 10, 2022, at 10:00 a.m. local time.
Timed Research – Trainers who complete the research focused on catching Pokémon will earn 50 Gyarados Mega Energy, 1,000 XP, 1,000 Stardust, and encounters with Lapras wearing a scarf and Dewpider.
Event Bonuses – 2 hr Rainy Lure Modules, 2× Candy and increased Candy XL from hatching Eggs.
Trainers can encounter a variety of Water-type Pokémon through Wild Encounters, Raids, 7km Eggs and Field Research tasks.

*If Trainers are lucky, they might encounter a Shiny one.
Pokemon GO is currently available on mobile via iOS and Android.
Source: Niantic PR
Leave a Reply