Pokemon Masters EX adds new N Story Event and Hugh Spotlight Scout
Posted on November 7, 2022 by Nicolas in Mobile, News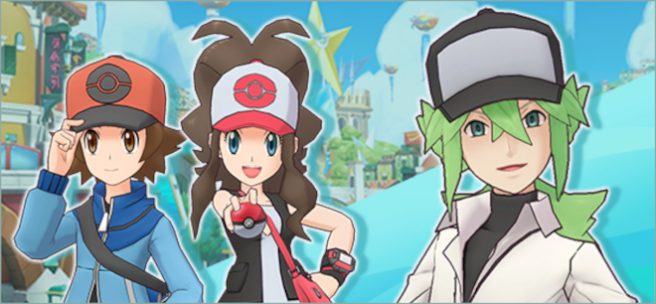 Some new events have gone live in Pokemon Masters EX. Continuing the theme of Unova-related events, a new story event centered around N, Hilda, and Hilbert and a Hugh Spotlight Scout have both been made available, as well as the Sinnoh variation of the Champion Stadium and a new Training Area Rally.
Here are the details on these events:
The new story event, The Ideal Formula, focuses on Hilda and Hilbert pursuing N after spotting him on Pasio. The event is fairly standard, with usual lineup bonuses, event missions and event medals, with players able to earn rewards by pulling from the Prize Box. Additionally, a log-in bonus is live offering 3 new songs in the form of Pokemon Masters EX version of Route 10: Unova, Farewell, and An Unwavering Heart. Both the story event and log-in bonus will be available until November 20, 9:59 PM PT.
A Spotlight Scout and Spotlight Scout + Present! Limit 3! featuring Pokemon Black 2 and White 2 rival Hugh is available. Both scouts feature the new 5★ Sync Pair Hugh & Bouffalant, who will release with their Sync Grid expanded, the ability to be raised to 6★ EX, and will offer a new Jukebox song if raised to 6★ EX. As a reminder, the Spotlight Scout + Present! Limit 3! is a special scout event that can only be used with paid gems but offers additional items, including a 5★ Master Scout Ticket G that guarantees obtaining the new Hugh Sync Pair. Both scout events will be available until December 2, 9:59 PM PT.
The Champion Stadium Sinnoh Challenge is now underway, offering a chance to enter the Hall of Fame by defeating strong Sinnoh-based Trainers. This event will last until December 4, 9:59 PM PT. A Training Area Reward Boost Rally is also available for a limited time, which will boost a number of rewards in the Training Area by x1.5 until November 13, 9:59 PM PT.
Leave a Reply