Pokemon Masters EX adds new Story event and Sygna Suit Cynthia Master Fair Scout
Posted on August 30, 2022 by Nicolas in Mobile, News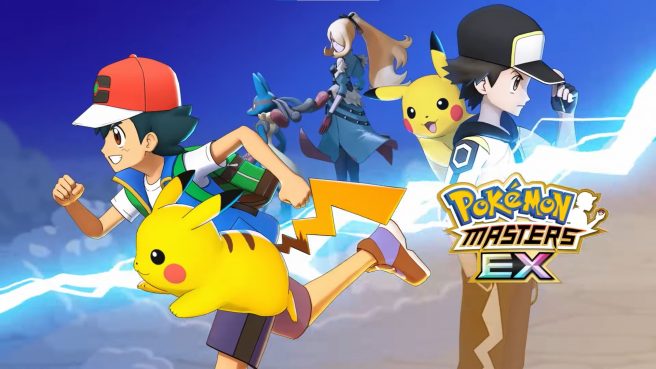 Continuing Pokemon Masters EX's Three-Year Anniversary Celebration that started a few days ago, new events based around Sinnoh Champion Cynthia have been added to the game. These consist of a new story event, Threads of Strength, and a new Sygna Suit variation of Cynthia that will be joining the new Sync Pairs for Ash and Red.
Check below are for details on both of these new events.
The Story Event Threads of Strength focuses on Red and Cynthia training in an effort to become stronger, all in preparation of their eventual face-off. It's a fairly standard event, with the ability to earn Event Vouchers, Event Medals, and complete special missions. The event will run until October 2, 10:59 PM PT.
The new Master Fair Scout features a third Sygna Suit variation of Cynthia, 5★ Sygna Suit Cynthia (Aura) & Lucario. As it is a Master Fair Scout, odds of obtaining this new Sync Pair are raised to 12% and said Sync Pair will possess a Master Passive Skill. This Sync Pair can also use a Buddy Move, and as usual, is releasing with their Sync Grid expanded and the ability to be raised to 6★ EX. You'll also be able to obtain a special Friend Snapshot viewable in the Trainer Lodge by teaming up with this Sync Pair. This Master Fair Scout will run the same amount of time that the story event will, until October 2, 10:59 PM PT.
Additionally, here is a trailer celebrating Pokemon Masters EX's three-year anniversary:
Leave a Reply