Pokemon Masters EX adds new Villain Arc chapter, Villain Event, Poke Fair and Special Scout
Posted on October 31, 2022 by Nicolas in Mobile, News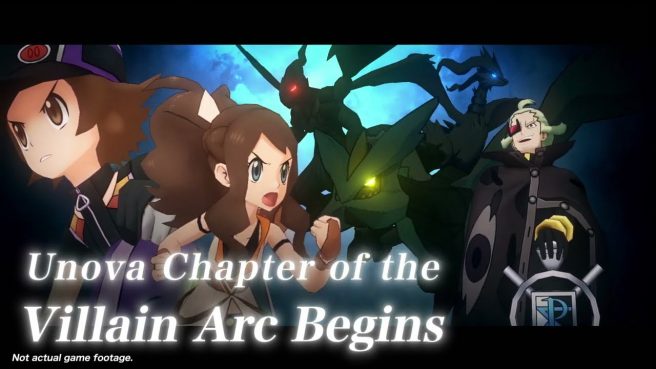 Pokemon Masters EX has just experienced a hefty drop of content, including a new Chapter in the Main Story Villain Arc, a new Villain Event, and two new Scout events. These additions are all based on the Unova region, with a particular emphasis on the region's first protagonists, Hilda and Hilbert, as well as its main villain, Ghetsis.
Here is a trailer showcasing some of this new content:
To start off, the main story of Pokemon Masters EX has grown with the first part of the Villain Arc's Unova Chapter, focusing on Ghetsis' latest machinations involving the legendary Pokemon Reshiram and Zekrom. Coinciding with this main story chapter is a new Villain event, The Captured King, which offers a Legendary Spirit players can use to raise the pre-existing Ghetsis & Kyurem Sync Pair to 6★ EX.
There are also two new Scout events available; the first of these is a Sygna Suit Hilda Poke Fair Scout, which offers the new fair-exclusive Sync Pair of 5★ Sygna Suit Hilda & Victini. This new Sync Pair will release with an expanded Sync Grid and the ability to be raised to 6★ EX, and as with all Poke Fair Scouts, the odds of obtaining a 5★ Sync Pair are raised to 10%.
The second Scout event available is a 5★-Guaranteed Unova Special Scout. As the name indicates, this event exclusively features Sync Pairs originating from the Unova Region, and players will be guaranteed to receive a 5★ Sync Pair for each of the three available Sync Pair Scout x11 used.
The Villain event and both Scout events will run until December 2nd, 10:59 PM PT. A Poke Fair Scout featuring 5★ Sync Pair Sygna Suit Hilbert & Genesect is also set to drop in the coming days.
Leave a Reply