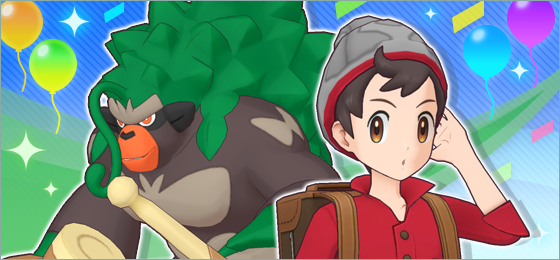 Pokemon Masters EX has added a final set of events revolving around its new Galar-based trainers. On top of the Solo event Severely Strained Relations being updated with new content, the highlight here is a new Poke Fair Scout for Pokemon Sword and Shield protagonist Victor.
5★ Sync Pairs will have a 10% chance of appearing in the Scout event, including new 5★ fair-exclusive Sync Pair Victor & Rillaboom. As usual, the Sync Pair will release with their Sync Grid expanded and the ability to be raised to 6★ EX. Additionally, to celebrate protagonists from all 8 main regions now being available in Pokemon Masters EX, a special Mission Bingo will be made available. Just like the other recent Galar events, the Victor Poke Fair Scout will be available until October 23, 10:59 PM PT.
You can watch a trailer featuring Victor and his Gigantamax-capable Rillaboom below:
Additionally, a couple of smaller events have also gone live. The first is that Legendary Arena Latias has received some new event missions, while the second is a Rock- and Ice-type Egg Event which lets players hatch and team up with Smoochum, Aerodactyl, Lapras, Omanyte, and Kabuto. Both of these events will run until October 20, 10:59 PM PT.
Leave a Reply