Pokemon Masters EX – Summer Nights & Wishing Stars story event and N Seasonal Scout live now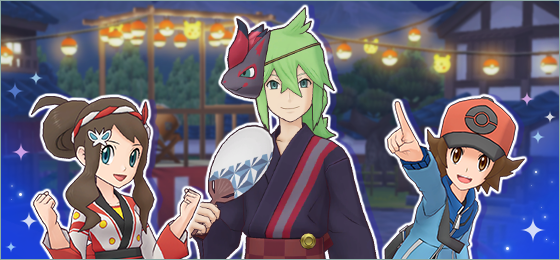 Pokemon Masters EX has just received some new content revolving around fan-favorite character N. Specifically, this content involves a new Summer festival-themed story event, Summer Nights & Wishing Stars, as well as a Seasonal Scout for new Sync Pair 5★ N (Summer 2022) & Zoroark. You can check out more information on these events below.
The Story Event Summer Nights & Wishing Stars is available now, and features N, Hilbert and Hilda all participating in a Summer festival. Throughout the event, you'll be able to obtain Song Keys that you can trade in to unlock a new song, Sync Pair Showtime. All the usual event elements are present here as well, such as Summer and Super Summer Tickets bonus items, relevant lineup bonuses, new Event Mission, Event Medals to obtain and a log-in bonus for up to 1000 gems and 80 Skip Tickets. You'll be able to participate in the event itself and the previously-mentioned log-in bonus until July 16, at 10:59 PM PT.
Beyond that, a limited-time seasonal sync pair scout featuring 5★ N (Summer 2022) & Zoroark has also just gone live. This featured N Sync Pair will come with their Sync Grid expanded as well as the ability to be raised to 6★ EX. On top of a regular Seasonal Scout, a Seasonal Tiered Scout has also been made available which will guarantee a scout of the new N Sync Pair in exchange for Paid Gems (this coincides with an event gem special to obtain gems at a lower price). You'll also be able to receive bonus items by using the Sync Pair Scout x11 in this event. This sync pair event will last until July 16, at 10:59 PM PT. You can also expect 5★ Sync Pair Hilda (Summer 2022) & Grapploct to become available in the coming days.
Lastly for those interested, here is a brief, recently released promotional video for the event:
Leave a Reply