Pokemon reveals new balloon for Macy's Thanksgiving Day Parade 2021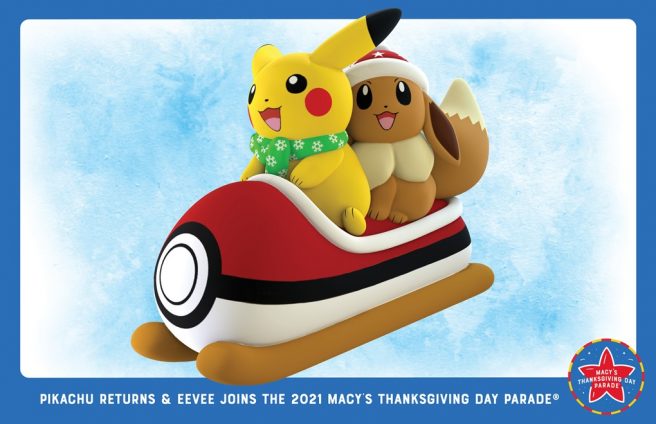 Pokemon will again have a presence at the Macy's Thanksgiving Day Parade, but for the 2021 edition, a new wrinkle is being thrown into the mix as Pikachu will be joined by Eevee. We have a first look at the balloon design above.
Pokemon first appeared in the Macy's Thanksgiving Day Parade in 2001, and we've seen three versions of a Pikachu balloon. With Eevee in 2021, it's the fourth Pokemon balloon and the first time another creature from the franchise will join the Electric-type Pokemon.
Speaking of today's news, The Pokemon Company vice president of marketing Colin Palmer said:
"Pikachu and Eevee are the perfect ambassadors to represent the fun and joy of Pokemon in this new balloon debuting during the brand's 25th anniversary year. Pikachu remains an icon of the brand, and its annual appearance in the Macy's Parade has been delighting fans and families for decades. The introduction of Eevee, known for its unique Evolution abilities, is the perfect Pokemon friend to join Pikachu and represent the brand as we look to the future and all of the fun and adventures which are yet to come."
Jordan Dabby, producer of the Macy's Thanksgiving Day Parade, added the following:
"The Pokemon balloon has become a mainstay of the Macy's Thanksgiving Day Parade and one which fans and families look forward to year after year. As Pikachu prepares to brighten the Parade route for the 21st consecutive year, we'd like to welcome Eevee to the Macy's Parade as we look forward to them both delighting viewers for many years to come."
The Macy's Thanksgiving Day Parade will air on November 25.
Source: Pokemon PR
Leave a Reply