Pokemon Shuffle update (06/13/17) Original Cap Pikachu, Hoenn Cap Pikachu, and more
Posted on June 13, 2017 by Andrew in 3DS, News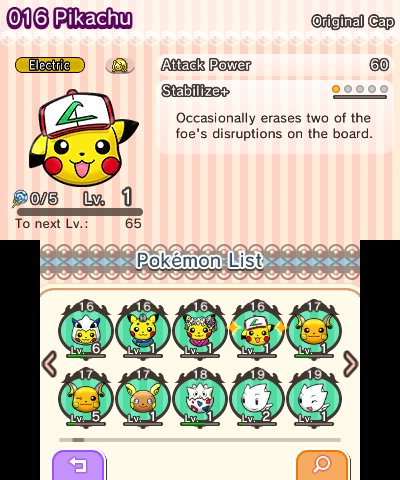 Another Pokemon Shuffle update is here and their is quite a bit of information.
First off, the Tornadus Therian Forme and the Landorus Therian Forme stages are on repeat runs again. They both will run until June 27th.
The Original Cap Pikachu is being distributed to all players.
There is a new special stage for Hoenn Cap Pikachu which will run until June 20th.
Early stages now have been altered to give these various items.
Stage 50: Moves + 5,
Stage 70: Disruption Delay,
Stage 80: Mega Start, Stage 100 Disruption Delay,
Stage 110: Mega Start,
Stage 130: Disruption Delay,
Stage 140: Mega Start
There is also some brand new main stages that have been added to Pokemon Shuffle.
Finally, if you were one of the players worldwide who ranked in the Primarina competitive stage over the past week, the prize is now available to be received. The Skill Swapper, Attack Power, Mega Speedup and Raise Max Level for the higher ranked players will also be obtained. If you didn't qualify, then you can redeem an Attack Power. You have until June 20th to check in and receive your item.
Leave a Reply