Pokémon Shuffle update adds Kingdra, plus some returning battles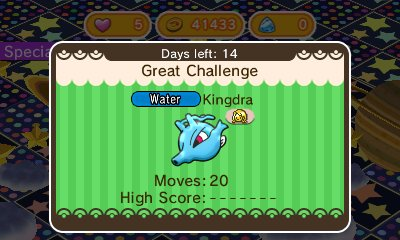 I like Pokémon Shuffle's weekly updates! They're comfy and easy to play! This week's update is the same for both the 3DS and mobile versions and adds in a new challenge, letting players catch Kingdra. This battle will run until June 21st.
A few repeat runs have begun as well, featuring Landorus, Uxie, Beedrill, and the Daily Pokémon Challenge (#5). The last of those will change which Pokémon is available daily, starting with Maractus, then moving through Dunsparce, Qwilfish, Durant and Heatmor, before returning to Maractus. All of these challenges except Landorus will run until June 21st. Landorus will run until the 14th, but will also have a higher catch rate each day.
Leave a Reply