Pokémon Shuffle update: Diancie, Mega Abomasnow, Mega Blastoise
Posted on February 9, 2016 by Jake in 3DS eShop, News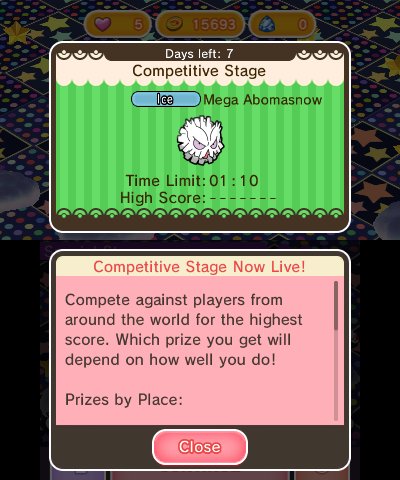 Tuesday's here, and so are more battles in Pokémon Shuffle. This week adds three new challenges: Diancie and Mega Abomasnow for both 3DS and mobile versions, and Mega Blastoise for the mobile version.
Diancie is an Escalation battle that runs until February 23rd. The Mega Abomasnow and Mega Blastoise battles will each run until February 16th. Both of these are competitive, so only top players will get some of the rewards.
For Mega Blastoise, the top 20,000 players will get a Mega Speedup, and the top 80,000 will get a Blastoisinite. The top 120,000 will get 2 Attack Powers, and anyone else who participates will get a single Attack Power.
The Mega Abomasnow prizes vary by region. A Mega Speedup will be given to the top 5,000 players in Japan, 3,700 in North America, and 2,500 in Europe. The Abomasnowite will be given to the top 50,000 in Japan, 19,000 in North America, and 12,000 in Europe. Two Attack Powers will be given to the top 70,000 in Japan, 26,000 in North America, and 17,000 in Europe. All other participants will get an Attack Power.
Leave a Reply