Poking around Next Level Games staff profiles for clues about the studio's next title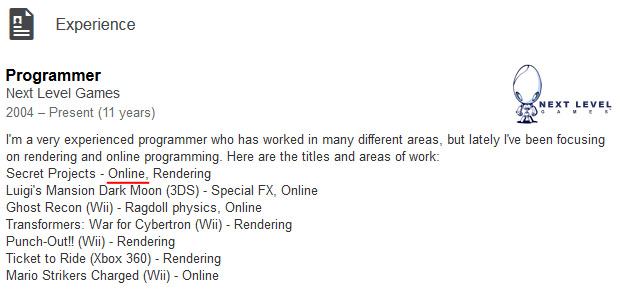 It's well known at this point that Next Level Games has been hard at work on some sort of new game since releasing Luigi's Mansion: Dark Moon. It's also known that this will be a title published by Nintendo. So what could the team be working on? That's completely unknown at this point, but minor findings from the LinkedIn profiles of a couple of staff members may give some clues.
Emily Rogers noticed that programmer Gary Shaw lists "Online [programming]" for secret projects at Next Level Games. He previously programmed the online functionality for games including Luigi's Mansion: Dark Moon and Mario Strikers Charged.
Rogers also poked around the profile of presentation/level designer Diego R. Pons, who has been at the studio for eight and a half years. Whereas "Collectibles" are listed for Luigi's Mansion: Dark Moon and Spider-Man, it's not listed for Next Level Games' unannounced project. Pons also lists "Story" for the new game, and it seems that his responsibilities focus more on mission-based games/more open environments.
Admittedly, this doesn't tell us too much. But given that Luigi's Mansion: Dark Moon shipped in March 2013, there's a good chance that Next Level Games' new project will be shown at E3 2015 next month. That would definitely be an interesting reveal!
Leave a Reply