Prison Architect: Nintendo Switch Edition update out now (version 1.0.9), patch notes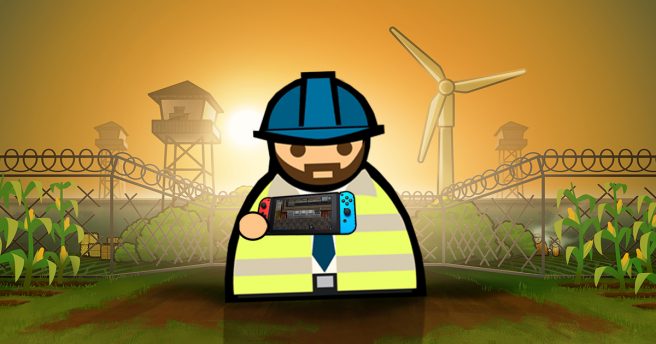 A new 1.0.9 update has gone out for Prison Architect: Nintendo Switch Edition. There are a whole lot of bug fixes and improvements here, all of which have been fully detailed in the patch notes.
Here's the full rundown of the update:
Staff Alerts​

The toggle for staff alerts in the options menu is fixed.
Contraband Staff Alert is now triggered by contraband found in the last 24 hours, which helps with the Staff Alert being shown for a long time after taking measures.
Improved the system for updating players on Grants and Staff Alerts.
Fixed issue with advisor staff alerts showing up despite that staff member not being hired.

Going Green​

Fixed an issue that reduced the progress of the "Green Energy Goal 6" if prisoners died.
Garbage is no longer transported to Recycling Bins.
Green Energy Goal 9 no longer displays "$0 On Completion" instead of "In Progress".
The game will no longer show Going Green programs and contraband for players who don't own the DLC.

Farming​

Farmers will no longer continue to replant crops after removing the Shed from Farming Rooms.
Fixed odd behavior that occurred when a Shed was shared between 2 rooms.
Fixed Crop Distribution UI Bugs. Improved percentage rounding.
Fixed an issue that prevented produce from stacking together.
Improved the behavior of prisoners producing Herbs.
The gardener could plant flowers outside of the Flower Garden room.
Control hints are no longer cut off in the Farming Work pop-up.
Reduced probability for seed growth.
Going green exportable items now counts as valid exports.
Prisoners will no longer only plant flowers when it is a High Priority task.
The shed can now be placed back after trying to move it to 1 tile or rotating it.
The player is no longer able to sell seed from the farmer's hands during the "Plant Crop" Action.
Prisoners would not plant flowers if seeds are located in different Sheds.
Fixed issue with empty fields popping up in farming rooms after searches due to damaged crops not being replaced in some instances.

Fertilizer​

The Workmen no longer spread fertilizer after searching crops when the "Automatic Fertilizer" option is on.
Continuous fertilizer will no longer cause repeat orders when it's already fertilized a plant.
Plants and Fertilizers bought automatically via Continuous Planting/Fertilizer had incorrect prices
Compost Fertilizer could be placed on top of any outdoor flooring.
Fixed issue that caused undelivered packs of seeds or Fertilizer to be sold with a profit every time the truck leaves the map.
Reduced the ratio of organic waste turned into fertilizer.

Auto harvester​

Auto Harvesters are no longer able to travel on water/out of the room/out of world bound.
Fixed an issue that caused farmers to ignore crops around an Auto Harvester's work area.
Fixed Auto Harvesters being shifted after purchasing a land expansion.
Auto Harvester is now built with the Electrical Cables underneath.
Auto Harvester & Auto Scythe can no longer be used to harvest trees is Fruit Orchard.

Energy & Transformers​

Fixed: Transformers don't output energy if the direction is right to left due to the wrong output cell calculation.
Fixed damaged transformers still function normally.
Fixed: Green Power Sources error message "Transformers must not be on the same circuit" when being overloaded, even if there is only in the circuit.
The error message "Overloaded, remove electrical items or add more green energy sources" no longer disappears after a few seconds.
The cable near the Power Switch no longer disappear when moving it.
Fixed: Dismantling a Transformer or another Green Power Source that is built next to another Green Power Source will make it lose the electrical wire that it originally came with.
All Green Power sources that are on the same circuit with a standard source now overload instead of only one.
Fix: Preen Power generator does not connect to the transformer if it is moved one tile.
Now it's not possible to build 12 batteries around a transformer.
[+] Added in the concept of a battery to the solar lights that discharge over time, and turn off when completely discharged.

Escape Mode​

Fixed soft-lock due to 0 prisoner at the end of escape mode victory.
Prisoners can no longer emerge from tunnels they have created on the road. To emerge from a tile, it now has to be both secure and not part of the road.

Other fixes​

Fixed Cash Balance display overflow bug. Visually the Balance has been capped to show a max of $2B.
Some minor language updates.
The tray dispenser now uses 1×1 tiles.
Selling flooring cannot be cancelled anymore and will happen instantly to be more aligned with other forms of selling.
Players are no longer able to build Outdoor Objects in certain Quick Build Indoor rooms.
Dogs are now laid on top of morgue slabs when dead.
Helicopter exports now work properly.
Small serving tables can now be placed outside.
Fixed "Sell object" icon for landscape and doors menus.
Dismantled objects can now be sold with the "Sell Object" tool.
Placing water under a room now removes the room.
Fixed problem where people got stuck sometimes after using the ferry boat.
Some types of walls were missing padding on the inside walls of Padded Cells.
Fixed problem where laundry basket doesn't get moved back to the Laundry.
Fridges and tall fridges in storage rooms can now only store food.
Tooltip for legendary prisoners now shows up properly.
Fixed issue with programs being able to be rescheduled into rooms without required equipment.
Fixed issue with objects not being stored in crates on the storage shelf.
Sell options across all submenus should now act identically to each other, regardless of the submenu they are in.
Fixed: Moving a water valve that's turned off retains function on the original tile.
The Paper Lantern will now give light.
Fixed prisoners standing on the spot during a "Free Time" regime slot.
Fixed: Reform rating for individual prisoners is always displayed at 200%.
Fixed crash when dismissing a Supply truck that's outside of the map.
Fixed crash when trying to load premade save on any of the new maps.
Leave a Reply