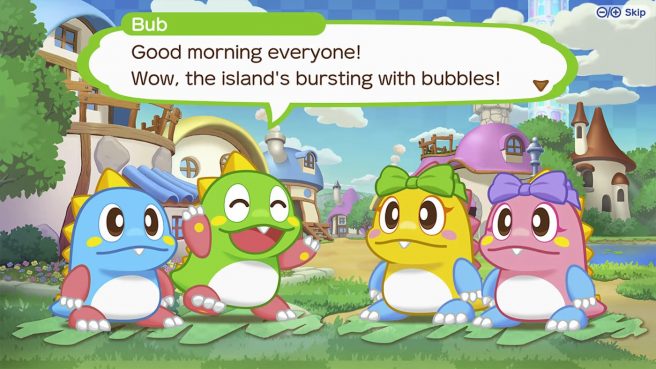 A fresh wave of gameplay has come in for Puzzle Bobble Everybubble. ININ Games and Taito are just about to bring it to Switch.
Everything you need to know can be found in the following overview:
The Story of Puzzle Bobble Everybubble! Brings Bub, Bob, Peb and Pab to Rainbow Islands, where Miniroon, a mysterious character similar to Bub, lives. One day, Miniroon suddenly starts blowing bubbles, covering the whole island in them and causing problems for its residents.

Time for our four friendly bubble dragons to step in and help Miniroon stop his bubble blowing blunders!

In the latest adventure, players once again have to clear the bubbles across a series of increasingly challenging and fun stages. To help them in their endeavor, they can use numerous items and gimmicks or try their best on their own.

• Uncomplicated, relaxing, and enjoyable gaming for all ages and the whole family
• Timeless action-puzzle gameplay with high replayability
• Various items and gimmicks will make bubble-bursting even more fun
• Story mode with up to four-player co-op! First for this franchise!
• Cute cast of iconic bubble dragon characters to play
• 1 vs 1 / 2 vs 2 Multiplayer Mode, for the first time in history of the series
• Cooperative Story Mode playable with up to 4 players
• Online Multiplayer for up to 2 players
• Unique game cross-over: PUZZLE BOBBLE VS SPACE INVADERS included
Check out the gameplay for Puzzle Bobble Everybubble below.
Puzzle Bobble Everybubble can be purchased physically or digitally on Switch starting May 23, 2023. It supports English, French, German, Italian, Japanese, Korean, Simplified Chinese, Spanish, and Traditional Chinese languages.
Leave a Reply