Puzzle Bobble Everybubble out in Spring 2023, new details and trailer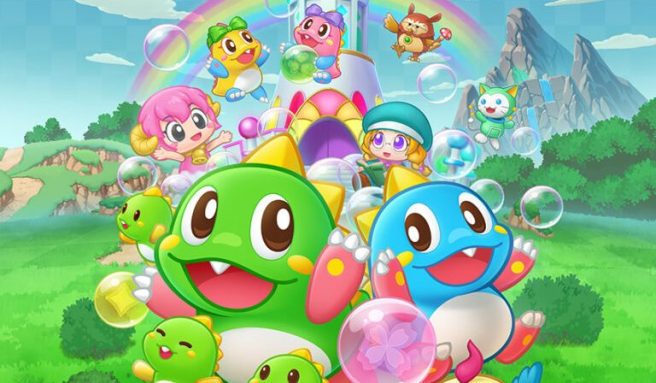 Publisher ININ Games and developer Taito have narrowed down the release window for Puzzle Bobble Everybubble. The title is now confirmed for Spring 2023. Previously, a general 2023 launch window was announced.
Here's the latest on Puzzle Bobble Everybubble, courtesy of ININ Games:
The first 2 vs. 2 co-op game in the series!

In the versus mode, players can play against either the computer or other players, and even send bubbles to their opponent's board and disturb them by erasing or tearing off a large number of bubbles at once.
In this title, players can enjoy not only the traditional 1 vs. 1 battle but also, for the first time in the series, 2 vs. 2 cooperative battles between teams of two players, who can cooperate to erase each others awkward-to-aim-at bubbles and enjoy a more thrilling and faster-paced experience. Players can also play alone against the computer team, or team up with a friend to battle.

Come on, Everybubble!

Yet another exciting detail we are honored to reveal: The official key visual has been released, and it features Bub, Bob, Peb, and Pab against the backdrop of Rainbow Islands – setting of this new chapter of the series – together with Miniroon, a mysterious key character similar to Bub, and Bonner, who has appeared as an antagonist in the series since the first "Bubble Bobble", "Puzzle Bobble" and other games.

To find out more about the latest chapter of TAITO's universally-beloved series, visit the official website, ININ's Game Page, or the official "Bub's Broadcast" channel on YouTube!

It started all with a Bub(ble):

Puzzle Bobble (a.k.a. Bust-A-Move) is an action-puzzle game where the brothers Bub and Bob, who have been transformed into bubble dragons by a wizard's spell, go on a bubble-bursting adventure. The classic gameplay formula is simple but addictive: using various items and gimmicks, connect three or more bubbles of the same color to remove them from the field and progress. A spin off from the 1986 arcade hit Bubble Bobble, Puzzle Bobble/Bust-A-Move has seen over 20 series titles across countless platforms since its 1994 debut. As the sole owner of Bubble Bobble and Puzzle Bobble's worldwide IP including copyrights and trademarks, Taito will continue to expand both properties going forward.
A new trailer for Puzzle Bobble Everybubble is available below.
Source: ININ Games PR
Leave a Reply