Quest for Infamy gameplay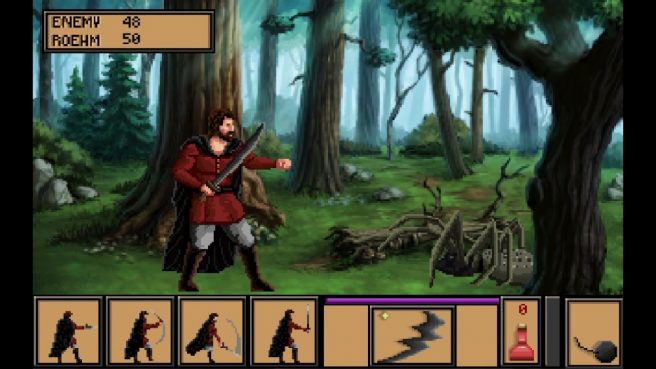 Quest for Infamy, a classic fantasy adventure RPG from publisher Ratalaika Games and developer Infamous Quests, has received new gameplay. 21 minutes of footage has arrived.
Learn more about the game with the following overview:
Quest For Infamy is an homage to some of the great ad iconic releases of the mid and early 90s where the focus was on story, variety, gameplay, in-depth adventure, wit, serious RPG elements and interaction, along many surprises – all combined within a great storyline and neatly encased with a simple point and click interface. It may look old-fashioned or retro focused to some, but Quest for Infamy presents an experience not to be missed with many laughs and sarcasm along the way in the fulfilling jaunt/adventure. Topped with plenty of mystery, intrigue, action, fighting enemies, boss battles, and discovering hidden secrets, the wise cracking lead character marks the experience as a title to check out!

So Much to See and Experience

Featuring a large, explorable world, with hundreds of NPCs to interact with – including some very strange and interesting fantasy characters. Three acts will draw the player into the story and many various settings and locations keep interest and focus high. There is the quaint village of Volksville, the large, sprawling Grecian inspired city of Tyr, the vast and lonely Grasslands, The mysterious North Woods and the treacherous South Woods, Rogue's beach, and many other places that will intrigue players along with lots of hidden environments to discover.

RPG elements are central to the genre mix, as are developing individual skills that can help you in your quest, and in some cases, using your skills changes the outcome of certain incidents will be one of the many factors that contributes to and shapes your gaming experience.

And so the story begins…

Quest For Infamy starts with Mr. Roehm, a roguish fellow, escaping the clutches of Baron Brandlevrot, who believes he's done him wrong – and he escapes in a straw-filled cart to the town of Volksville, in the picturesque Valley of Krasna. Stuck in town, due to a bridge being out, Mr. Roehm finds himself unintentionally drawn into the secretly nefarious goings on in the valley. As he explores the town and valley, he faces a strange cult that has plans for the peaceful valley, and unravels the connection to a mystery that has long plagued the people of Krasna.

Roehm can seek out one of three mentors which will teach him about the different classes he can become – a rogue, a sorcerer or a brigand. He can use his cunning, brains or brawn to craft his own adventure! Learn the secrets of thievery and practice your sneakiness on the path of the rogue. Train your muscles and forge friendships with a brutish band of toughs on the path of the Brigand. Learning magic spells on the path of the sorcerer; gathering items and reagents to create spells as you learn how to use magic to your advantage are all part of the overall experience in Quest for Infamy.

Key Features

– Fully hand painted backgrounds and hand animated figures.
– Over 200 locations to explore
– Three different paths through the game with different classes to choose from.
– An intuitive combat and magic system.
– Plenty of secrets to find on your exploration of the Valley of Krasna.
– Plus lots more…
For a look at the Quest for Infamy gameplay on Switch, continue on below.
Quest for Infamy can be purchased digitally on the Switch eShop. Keep in mind that English is the only supported language.
Leave a Reply