QV details its prologue, characters, and more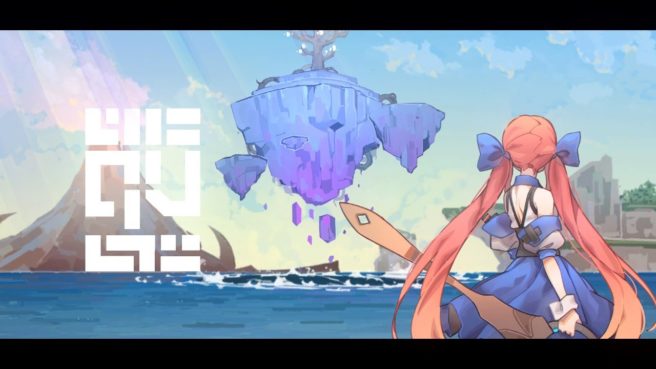 CFK and Izzle have shared a bunch of information about QV, the upcoming action-adventure game for Switch. We have information pertaining to the game's prologue, characters, and more.
Here's the full rundown:
QV features a female protagonist named "Quby" who is destined to protect the balance between dimensions. In the game, she explores ancient ruins to find a way to save the dimensions in crisis.

■ Prologue
The universe consists of dimensions connected with each other.

In the center of interdimensional passages lies the Dimensional Core, keeping the balance between dimensions.

But this balance is about to collapse as the Core stopped working all of a sudden.

A girl named "Quby" quickly realized this problem.

As the chosen one destined to keep the dimensions stable and balanced, she embarks on a journey to save the Core.

Quby arrives at the Gate, or the cradle of the Dimensional Core.

The next moment, she opens a portal to the long-forgotten home planet.

Only there she can find the Dimensional Crystals, the fuel to revitalize the Core.

Quby dares to solve the mysteries of the old ruins in search of the Crystals.

How will Quby's journey end? Can she save everything from falling apart?

■ The Gate
The Gate is the host of every interdimensional passage where only the chosen ones are granted access.

As Quby, players will use the power of the Gate to initiate interdimensional travel, from the Gate to various ruins and vice versa.

■ Into the mysteries of old ruins
The ruins in the long-forgotten home planet are located in diverse terrain such as grasslands and deserts.

The ruins are full of riddles made by Quby's ancestors. To solve the mysteries, she must use the mechanism hidden in the ruins and her power to open the portal.

During the journey, Quby will run into beings from other dimensions. Some of them may cooperate with her, but unfortunately it is not the same for others.

■ Characters

Quby
The last descendent of the chosen ones who can access the Gate.

She is a girl destined to keep the dimensions stable and balanced.

Realizing the balance between dimensions is on the verge of collapse, she leaves for the forgotten ruins to revitalize the Dimensional Core.

Varon
A penguin swept away from his home world by accident.

He is the only sane penguin among his kind.

After meeting Quby in the ruins, he decides to cooperate with her.

???
A mysterious, cold girl Quby ran into during the journey.

She looks similar to Quby, but her existence and memory unstable.

Where could she have come from…?
QV launches on Switch later this year. View the first character video below.
Source: CFK PR
Leave a Reply