Realm Royale launches on Switch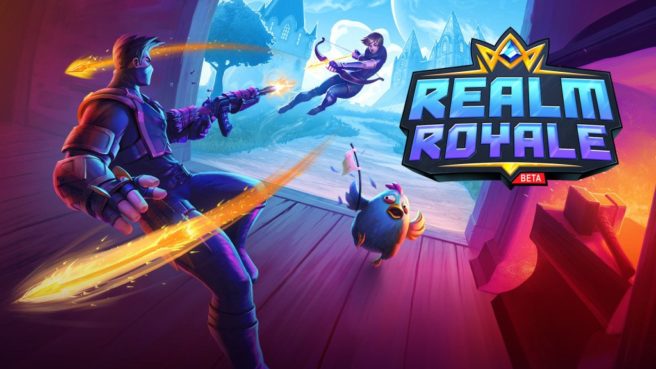 Following several datamines and leaks, Realm Royale has made its way to Switch. A "Founder's Pack" is out now on the eShop for $14.99, with a free-to-play version following later on.
The Founder's Pack includes:
– Instant access to the closed beta on Switch
– Adventurer's Mount
– Adventurer Chicken
– Jumping Jacks Emote
– Adventurer Spray
– Adventurer Avatar
– Founding Forger Avatar
– Founding Forger Title
Here's an overview of Realm Royale, along with a trailer:
Can you defeat up to 99 players to claim the Crown Royale in this hit fantasy Battle Royale?

Choose a class. Forge your legend.
Choose a class, then loot deadly weapons and powerful abilities to customize your playstyle and dominate the battlefield. Soar through the skies as a Mage, or perfect your accuracy as the Hunter. Flank the enemy with the stealthy Ghost Walk as an Assassin, or jump head-on into battle as the Warrior with the Heroic Leap!

The Ultimate Team Royale
Call your friends: It's time to squad up. Help your team by dropping a Healing Totem during a firefight, or fire a Flare into the sky to reveal incoming enemies. Build a team from four unique classes and work together to earn the coveted Crown Royale!

Wield Awesome Abilities
Throw out a Concussion Bomb to knock enemies into your line of fire, or summon an Ice Wall to take cover. Make a stealthy approach with a Smoke Screen, or search for nearby enemies with a Sensor Drone. Find your favorite abilities scattered across the Realm, and outplay your opponents.

Forge Legendary Weapons
Go traditional with shotguns and snipers, or embrace the fantasy with swords and crossbows. If you want to win, you'll need to craft Legendary Weapons at Forges scattered across the Realm. But be careful: Using the Forge will alert enemies of your presence!

Mount Up. Explore the Realm.
Journey through snow-swept vistas, castle keeps, and fungal jungles. The best part: you can summon your mount at any time to outrun the fog and ride to your next battle!

Live to Fight Another Day
Losing a fight doesn't mean it's all over. Fall to zero health and you'll be turned into a chicken! Survive long enough as a chicken and you'll returned to human form, giving you an opportunity to turn the tables on your opponents!
Realm Royale takes up 2.4GB of space on Switch.
Source: Switch eShop
Leave a Reply