Relic Hunters Zero: Remix, Kardboard Kings getting physical releases on Switch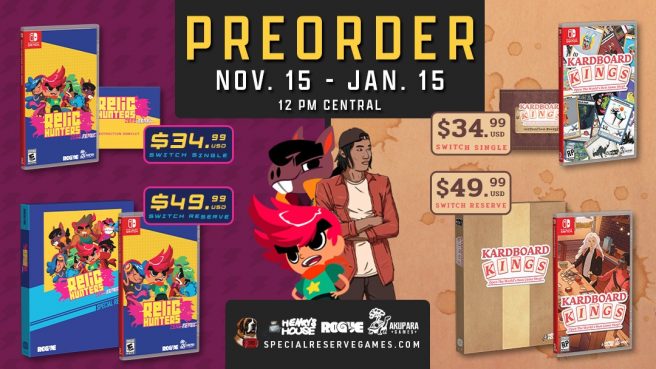 Special Reserve Games has largely been known for putting out physical versions of Devolver Digital titles, but it has now teamed up with Akupara Games for boxed versions of Relic Hunters Zero: Remix and Kardboard Kings on Switch.
Both will have a standard edition and "Switch Reserve" editions. All copies include the cartridge with critical updates, patches, and DLC at the time of manufacture, reversible jacket artwork, and an instruction booklet. The "Switch Reserve" edition adds sequentially numbered packaging, an art card, manga-style comic (Kardboard Kings only), and Special Reserve box.
Here's some information about both games:
Kardboard Kings
You are Harry Hsu, a young man who recently inherited a card shop from his father, a former champion of the famous card game "Warlock." With the shop's reputation on the line, you start working behind the counter, juggling requests from the locals while trying to familiarize yourself with owning a shop.

Open your own card shop by the seaside! Buy, trade and sell cards, or keep them for your own collection! Earn reputation with customers, beat your shop goals, unlock new decorations, and host exciting events to bring everyone to the best card shop in town!
Relic Hunters Zero: Remix
Long ago, in a distant part of our galaxy, the Asteroid Dungeon Nemesis was the sacred home of the legendary relics of power. The evil Duke Ducan sought these artifacts to rise his ducks to power and rule the galaxy. But the Spaceheart and its crew of Relic Hunters arrived at the Asteroid, ready to ruin his plans.

Relic Hunters Zero: Remix is a remaster of the 1 million player hit game that takes the adventure and levels it up in more ways than one! Follow your heroes: Jimmy, Pinkyy, Ace, Panzer, Biu, Raff, and Red as they explore, looking for relics while trying to get the Ducans off their Asteroid. Run, Gun, and Dodge your way through numerous space ducks and evil space turtles. It's fast, it's tactical, and it feels deliciously smooth to play. Unlock new weapons, characters and use relics to overcome waves of enemies to ultimately defeat Duke, The Ducan Commander!
Pre-orders for the physical versions of Relic Hunters Zero: Remix and Kardboard King on Switch begin on November 15, 2022. Special Reserve Games will have them here and here. Copies should ship in Q1 2023.
Leave a Reply