Re:Zero – Starting Life in Another World: The Prophecy of the Throne receives release date, new details, new trailer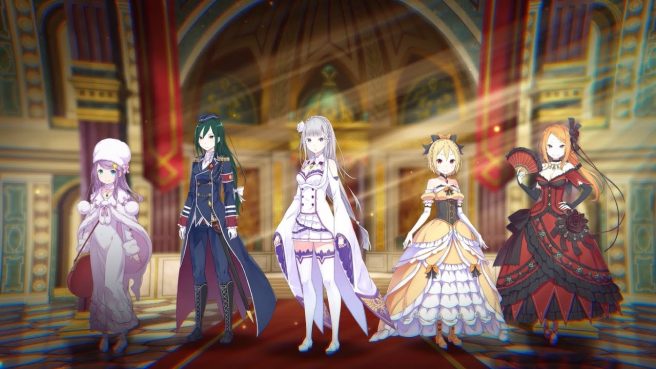 Spike Chunsoft has provided a substantial update on Re:Zero – Starting Life in Another World: The Prophecy of the Throne. The biggest piece of news confirms the game's release date, which is set for January 29, 2021 in North America and February 5, 2021 in Europe.
We also have a bunch of details as well as a new trailer. Find the full roundup below.
New Characters

Melty Pristis
VA: Sora Amamiya

A nun of the Transcendent Dragon Church, which worships the Holy Dragon, and the sixth royal candidate of the Kingdom of Lugunica.
Polite, respectful, and humble, those who encounter her tend to be stricken with a desire to protect her.

She takes on any challenge with her utmost effort, but she can be a bit of an airhead and often makes careless blunders.

Melty's Knight
Tiga Rauleon
VA: Toshiyuki Toyonaga

Melty's Civil Official Sent by the Transcendent Dragon Church
Sakura Element
VA: Aya Hirano

Reticent Bodyguard
Salum
VA: Shunsuke Takeuchi

Puck's Admirer
Pooka
VA: Kaede Hondo

Mysterious Assassin Targeting the Royal Candidates
Wolf
VA: Hiroki Takahashi

Game System
A tactical adventure utilizing Subaru's "Return by Death" ability, a key element much like in the original works.

Adventure Part
Progress through the story mainly through conversations.
The smooth character animations and fully voiced dialogue brings the story to life.

Movement Part
Take control of Subaru to speak with characters, check out points on the map, and gather items and information. Obtaining useful items and intel is key to completing missions successfully.

Briefing
Devise plans with allies to decide how to proceed through upcoming missions. Subaru can propose opinions based on any items and information that have been gathered to affect the actions of his allies.

Mission
Take action to resolve conflicts standing in the way of Subaru and his friends. Players can only control Subaru, and his allies move independently based on the decisions made during Briefings.

English Voice-Over
The Re:ZERO -Starting Life in Another World- anime English dub cast will return to reprise their roles!
English voices will be available as a Day One patch for the North American and European version.
Re:Zero – Starting Life in Another World: The Prophecy of the Throne will be available on Switch both physically and digitally.
Source: Spike Chunsoft PR
Leave a Reply