Ring of Pain – "Mimic's Hoard" update out now on Switch (version 1.3.00S), patch notes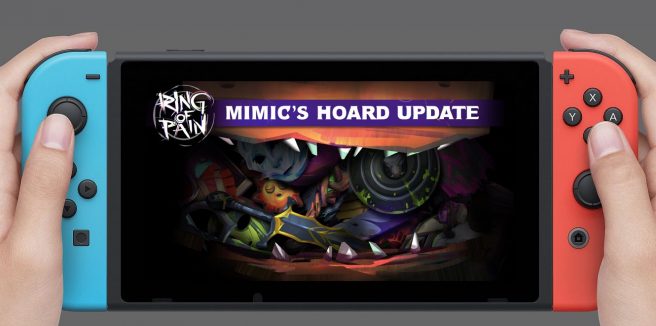 The roguelike card crawler Ring of Pain has received a major patch on Switch. Version 1.3.00S is the "Mimic's Hoard" update, featuring lots of new content, a new difficulty mode, balance adjustments, and more.
Below are the full patch notes:
Features

Added Medium difficulty
Medium difficulty can be unlocked by completing a run on normal difficulty, and hard mode is now unlocked by completing a run on medium difficulty.
If you've already unlocked hard mode, medium mode will be automatically unlocked.
80+ new items
15+ new Daily Dungeon modifiers
15+ new Achievements
5+ new special paths
10+ new creatures
Added a new status effect Petrify, which reduces max health.
Added a Statistics Page
This will display your statistics for runs, items, combat events, exploration events
Display creature effects when inspecting them
This will display things such as the amount of explosion, poison, ranged damage a creature will deal
Added new Daily Dungeon modifiers
Path taken is displayed on the game over screen

Improvements

Show end game choice on game over screen
Candles that are unlocked through achievements are displayed on the achievements page
Added Up button when hovering over certain cards
Added controller tutorial for observing previously explored paths
Hovering over creatures will now show their souls

Balance

Adjusted hard and medium mode levels to feature new creatures
Ensnare now in addition to stopping movement, halves physical attack
Adjusted Spellbook cooldowns
Loombird Changes:
Crooked Loombird in Hard mode: Speed increased 6 -> 12
Huge Crooked Loombird in Normal mode: Health 32 -> 26, Attack 13 -> 11
Huge Crooked Loombird in Hard mode: Health 32 -> 36, Speed 8 -> 16
Double Candle now allows you to select a common-tier starting item, Stealth chance removed
Dark Stone starts with Barrier scroll, Stealth change increased 30% -> 40%, Speed reduced -1 -> -2
Necklace Rebirth cures poison.
Choker item effect increased from +1 to +2 Attack for consecutive attacks.
Metal Ox stats increased 0 -> 4 Health, 0 -> 4 Clarity
Chestplate explode damage reduction changed from half to reduce by 2
Special path balance
Fountain of Life reduced spawn rate in early game
Careful Maneuvre and Overwhelm can no longer spawn in the first level
Companions Sam can appear a little earlier
The timer starts counting up when the player has control
Previously it would start when the tutorial started or the starting camera animation

Bug Fixes

Spineback is no longer revealed before its card has rotated
Fixed behavior for Confidence
Hollower only plays it's particle effect when it's area of effect is completed
Fixed issues with Crown of Clarity
Polearm + Knockback now works with the projection system
Fixed issues when using a Spellbook or Scroll over the Creature card's inspect icon
Fixed issues with the collection's scrollbar not resizing
Adjusted stat manipulation calculation and how it can be absorbed
Clearer projections when losing stats from items like Siphon Gem

Other

The "Trinket" item slot has been renamed to "Jar"
We have a trailer for the new Ring of Pain update below.
Leave a Reply