Risk of Rain 2 console roadmap detailed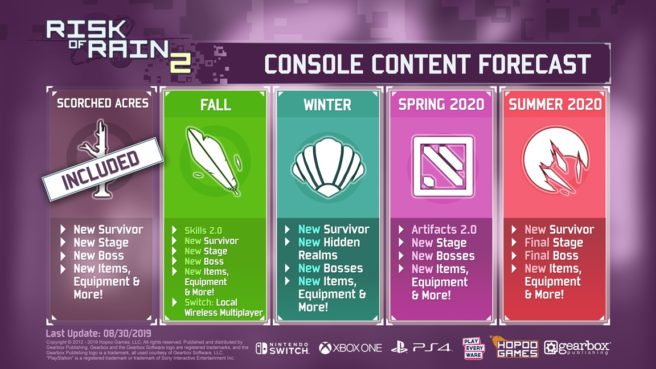 Risk of Rain 2 is in an interesting position. It's still technically in Early Access on Steam, but it just launched on consoles – including Switch.
Fortunately, Risk of Rain 2 will be getting the same content across all platforms. In fact, Hopoo Games has shared a roadmap as well as additional details regarding plans for consoles.
We have a look at the roadmap above. Hopoo has also provided the following information:
A unique challenge that we're facing is that Early Access games don't really exist on all the consoles. To help smooth over that confusion, we are launching a console-specific roadmap, outlining the timeline of when the consoles will be updated to match the PC version of the game. Note- the PC roadmap remains the same and we will maintain two roadmaps.

Outlined below is our intended development plan for Content Updates (CU) going forward:

-Hopoo Games begins and develops the CU
-Submit to Gearbox QA once the CU is content locked
-Launch the CU on PC
-Address any Week 1 feedback + bugs with a small patch

After the first week is over and we've gathered all the information and feedback we can, we then share everything with PlayEveryWare for the consoles.

-Submit our Content Update + Week 1 Patch to PlayEveryWare
-PlayEveryWare takes over to begin porting the CU for Switch, Xbox One, and PS4
-Submit console version to QA
-Pass certification on Switch, Xbox One, and PS4
-Release on all consoles simultaneously

Our intent is to turn around Content Updates as soon as we can for consoles. Not only that, but consoles will get some features specific to its hardware that will also be included in the roadmap as it grows – ad hoc multiplayer for the Switch as an example. We're also keeping our ears to the ground to make sure that the console version of the game is of the same quality as the PC version – please let us know if you run into any issues!
Risk of Rain 2 is out now on the eShop. A physical version will follow in November.
Leave a Reply