Rival Megagun getting big update on Switch soon, physical version in August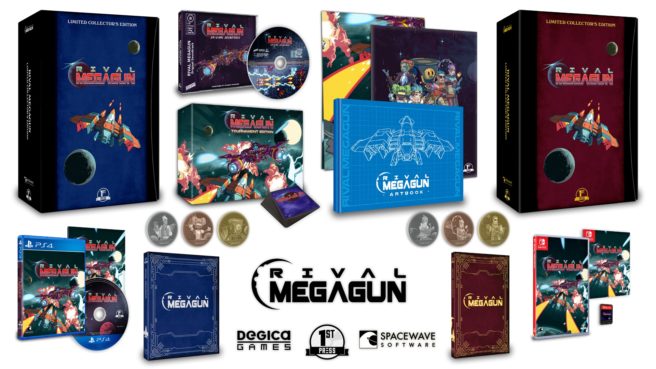 Spacewave Software today announced a major update for its competitive split-screen vertical shoot 'em up Rival Megagun. It'll come with new features and updates "designed to rebalance, enhance, and just in general make this deep-space battle royale a little more intense for all parties involved."
Here's a full rundown of what's in store:
What have they done? Well, a lot of stuff involving online battles, versus options and character balancing, so if you're all about smiting rubes, you won't want to miss this! For example:

Train against the CPU while waiting for a human(oid) opponent!

Why just sit around and wait to fight a friend or stranger, when you can be honing your skills instead? Give yourself that extra advantage you need to mop the floor with all who would dare challenge you!

Level-up to unlock new battle avatars!

Fighting is its own reward, sure, but what's even better than that? Actual rewards! Yes, now you can level-up during online battles, and unlock new avatars in the process so you can show the world just how awesome you are.

Let your computer do the heavy blasting!

Deploying the Mega Gunship is fun, but if you want a more efficient killing strategy, why not deploy your Mega Gunship? As in, let the computer take control while you continue to chain like an unstoppable force of nature! You can still become the boss if you want, but now you can also choose to let the game take over instead, and show you just how it's done. It's like autopilot for your gun!

And that's just blasting the surface! The full list of changes, both online and off, is too long for a simple newsletter, but can be perused in all its glory via the latest patch notes on the game's Steam news page here.

A few more highlights:

Powerups for destroying an opponent's Mega Gunship in battle mode
Balancing to every character, per YOUR feedback
Tweaks to all gear, ALSO per your feedback
All manner of quality-of-life fixes to the gameplay
SO… MANY… DRONES…
…or fewer, if that's your preference
In order to include the new update, the physical version of Rival Megagun has been moved to August. That means the patch will be installed on the actual cartridge.
Leave a Reply