Roundguard "Encore Update" out now on Switch (version 2.0), patch notes and trailer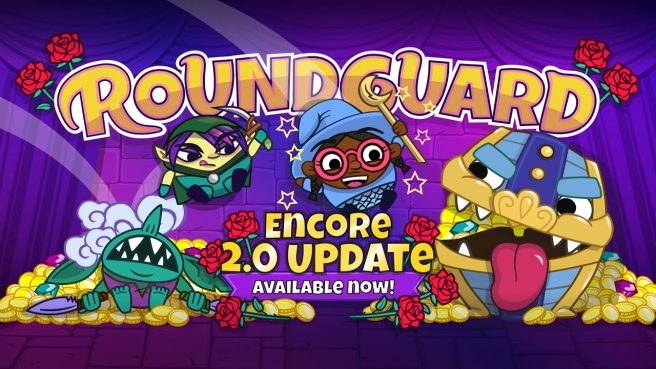 The Quantum Astrophysicists Guild and Wonderbelly Games have announced that a new Encore Update is now live for Roundguard, their Peggle-like rogue-like. The expansion gives each character their own series of escalating Encore ranks to explore and adds tons of new gameplay variety and new rewards to unlock.
Below are further details on the new 2.0 "Encore Update" for Roundguard:
The new Encore Mode for each hero adds a whole new type of gameplay with more boss variants and hero ranks to push players to their limits as they climb the leaderboards. In addition, a Wheel of Woes, new relics, new achievements, and new accessibility settings (including Arachnophobia Mode) have been added.

New Features:
– Encore mode that unlocks after winning a run with any hero.
– New bosses: The Mad Virologist, the Mad Doctor, Greg & Carl, Bleary, Blinky & Goo, the Robotic Heart, and the Infected Heart.
– New monsters & hazards: Thirsty Imp, Strange Lab Rat, Toxic Mushroom, Doc's Monster, Doc's Helper, Plasma Globes, Robo Wormlet, Infected Wormlet, Sickly Valve.
– The Wheel of Woes with 32 different rules to alter the dungeon and keep you on your toes.
– Five new relics to unlock, including Endless Mode to really put your skills to the test.
– New accessibility options, including Game Speed settings and Arachnophobia Mode.
And here's a trailer:
All Switch players can access the new 2.0 "Encore Update" for Roundguard now.
Leave a Reply