Rumor: Switch's Right Joy-Con can serve as an IR pointer to play touchscreen games on TV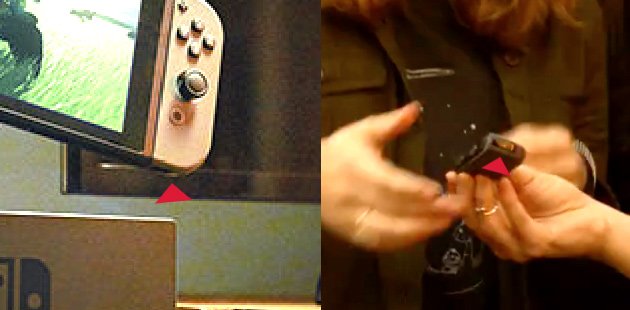 On Saturday, we reported on a curious feature of the Switch's right-hand Joy-Con controller – a sort of glossy panel on its bottom. Laura Kate Dale, who has delivered many correct reports and leaks about the Switch so far, has been digging into this and apparently found out that that glossy panel is indeed an infrared (IR) pointer. The purpose of this IR pointer has to do with the Switch's supposed touchscreen functionality.
Whether or not the Switch has touchscreen functionality has so far not been confirmed (or denied) by Nintendo. However, multiple reports prior to the Switch's launch, which so far have been correct, have all said that the console will indeed have a multi-touch screen. Of course, that seems to clash with what we officially know of the Switch so far – if you're playing it on your TV, then the console (with the supposed touchscreen) rests inside its dock, making it impossible to actually use the touchscreen.
According to Laura Kate Dale, who has spoken with sources at Ubisoft, the Joy-Con's IR pointer will be used to circumvent that problem – the IR pointer will essentially be used to replicate touchscreen functionality while you're playing the Switch in "TV mode". Dale believes that the top of the Switch screen, which is visible even when it's inside the dock, will serve as a sensor bar – essentially working the same as the Wii Sensor Bar, with the Joy-Con being used like a Wii Remote.
As always, these are just unconfirmed rumors at this point, but it's quite interesting to think about. What's your take on this – do you believe the Switch has a touchscreen? And will this be the way to play touchscreen games on the TV?
Leave a Reply