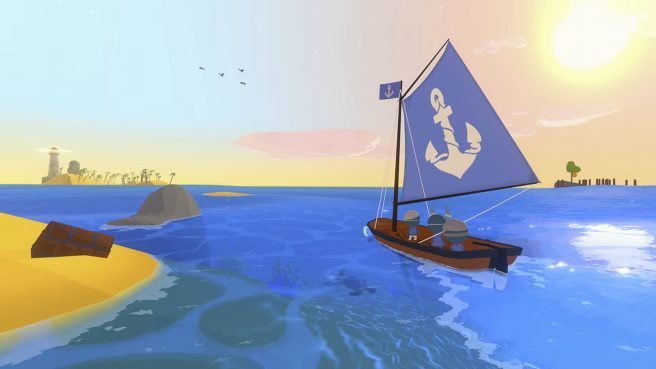 Sail Forth launched on Switch today, and we have a bunch of new gameplay. A new video has surfaced containing an hour of footage.
Information about the game can be found in the following overview:
Explore the Deepblue!
• Put the wind to your back and cast out into High Adventure over a vast ocean spanning dozens of eccentric regions.
• Discover countless isles bursting with their own flora, fauna, friendly folk, and fearsome foes.
• Playfully pursue a pod of curious dolphins, admire the beauty of the sun sinking into an icy horizon, or run down a clutch of cowardly criminals only to accept their apologies to the tune of wild cannonry.

Command a Sailing Fleet!
• Build and manage a custom cadre of specialized vessels to match any personality and play style.
• Buy, equip, upgrade, and modify your ships' armaments to face off against the toughest privateers this side of the Eclipside.
• Crack open giant clams and loot lonely shipwrecks to fill your fleet's treasure hoard and keep your crew in shipshape.

Fathom a Mystery!
• Join forces with the myriad inhabitants of this watery world to uncover a terrible secret buried in the depths of the Deepblue.
• Reel in a big one with the salty Anglerwranglers, learn the secret spyspeak of the Croaker Command Corps, save the sea life of the Moontiders, capture picturesque memories with a mysterious "camera" device, and much more.
• Inspire the finefolk from all over to work as one world-spanning crew to save the seas and the planet.

Sail Forth into Adventure!
• Tack and jibe and heave and cut with a sail and wind system designed with enough attention to realistic sailing physics to excite naval enthusiasts while also remaining deeply accessible to anyone and everyone.
• Sail through stormy swells and serene sunsets in a dynamic and breathtaking day-night weather system.
• Bask in the beauty of the benevolent ocean waters in Free Sail mode where the only goal is the ever-moving horizon.
Have a look at the gameplay for Sail Forth below.
Sail Forth is now available on the Switch eShop. You can play it in English, German, Japanese, Portuguese, or Simplified Chinese.
Leave a Reply