Samurai Bringer gets another update on Switch, patch notes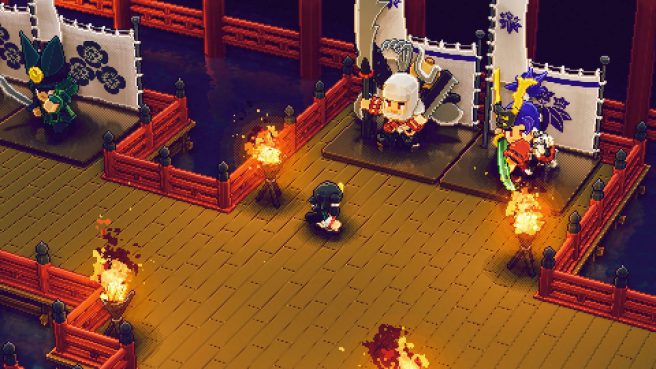 Playism and Alphawing have issued another update for the Switch version of Samurai Bringer.
New additions, adjustments, and fixes are included. Two new Brave Generals are included (Minamoto Yoshitsune and Musashibō Benke), players can now revisit previous tips, the scarecrows system has been introduced, and more.
The full patch notes for the Samurai Bringer July 2022 update are as follows:
Added Minamoto Yoshitsune and Musashibō Benkei
Added books that allows the player to review past Tips
Redisplays the Tips messages when you reapproach the Master
Added scarecrows that allow players to store and retrieve arms and combat techniques
Added new Well feature
Added a new feature for when players swap to a Brave General's arms, picking up the dropped Susanoo head allows players to revert back to their previous loadout.
Changed certain aspects of the Brave General arms that are borrowed from the base
Added the ability to dash in the base
Master, Blacksmith, and Merchant Arms will appear in treasure chest and at the Merchant when their requirements have been met
Adjusted options and configs
Added the ability to lock in a fixed viewing angle in the options menu
Added Invincibility Frames at the start of a Step
Added the ability to survive with 1 HP when guarding
Decreased the amount of SP consumed when guarding
Decreased the enemy Samurai's maximum SP
Eliminated cooldown time when guarding
"Adjusted the amount of damage taken when taking consecutive damage
*Susanoo only"
"Added ability to survive with 1 HP when taking consecutive damage
*Susanoo only"
Adjusted the algorithm that determines when Brave Generals appear from treasure chests
Added special aura around particularly strong Brave Generals
Made enemy samurai behavorial AI smarter
Decreased the amount of damage taken when falling off the platform at the Yamata no Orochi fight
Fixed a bug that sometimes caused the initial tutorial to become stuck.
Adjusted the light vortex's spawn conditions
Added keyboard controls display when in Action Builder
Fixed a bug in which the passive skill "Bloodsuck" reduced your HP even during times when you are unable to act, e.g Great Demon cutscenes, etc.
Adjusted the SP damage stats for Evil type attacks
Changed the way you aim guns/bows with the right stick
Players can no longer move the camera in the first scene of the opening
Fixed a bug where arms could be duplicated when exiting the game with the Gear Builder open
Fixed a bug where the UI of the Secret Scrolls would not be displayed properly in certain resolutions
Fixed misconfigurations of some Combat Techniques
The Samurai Bringer July 2022 update is now available on Switch.
Leave a Reply