Scarlet/Violet DLC, Pokemon Sleep, new Mario Kart 8 DLC tracks, and more | Nintendo Everything Refresh Ep. 046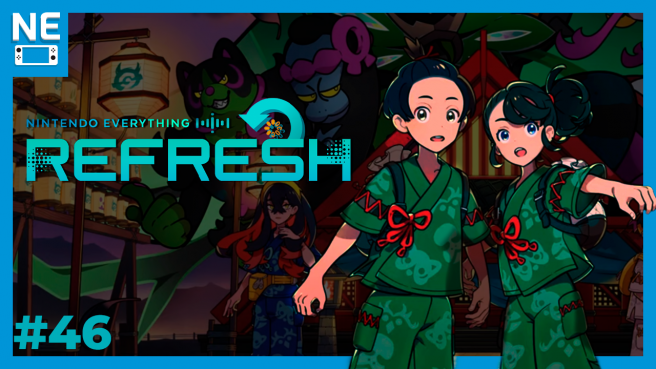 Pokémon Scarlet and Violet may still be in rough technical shape for some players, but that didn't stop Game Freak from announcing a wave of new expansions last week for these controversial (but still widely loved) games. In this week's episode of Nintendo Everything Refresh, your hosts Nick and Nicolas will chat about the announcements from the recent Pokémon Presents showcase, including a new Poké Ball-style accessory that you are seriously supposed to sleep with, and a freshly announced Pokémon TV series. We'll also discuss the upcoming Wave 4 of tracks for Mario Kart 8 Deluxe, the launch of Metroid Fusion on Switch Online, and much more!
Our podcast is available on most major streaming platforms, including Spotify, Apple Podcasts, Google Podcasts, Amazon Music and Audible, or you can check out the video version on YouTube.
Direct downloads are also available for free through our friends at ListenNotes. Have ideas or suggestions for the show, or want to submit a fan question or topic for a future episode? Let us know what you think – and thanks for listening!
➡ Inquiries/Fan Mail: [email protected]
Episode Segments:
(00:00) | Intro
(00:55) | Scarlet/Violet DLC
(06:53) | Pokémon Sleep
(10:54) | Pokémon Concierge
(13:07) | Other Pokémon news
(16:09) | Mario Kart 8 Deluxe Wave 4
(19:21) | Metroid Fusion on NSO
(23:20) | Capcom Spotlight announced
(26:53) | Fire Emblem Engage DLC
(30:21) | Give me toilet paper
(32:08) | Crymachina
(35:05) | Subway Midnight
(36:34) | Trinity Trigger
(39:03) | Recent releases
(51:13) | Refresh Rate
Hosts:
Nick Serpa: @ndserpa
Dennis Gagliardotto: @LyonHart_
Luiz Estrella: @Luizestrella_
Nicolas Shadday: @Dayshade1999
Leave a Reply