SEGA announces new animated series for Sonic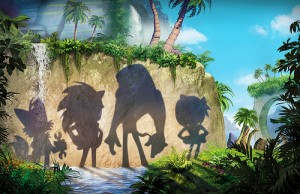 SEGA has announced a brand new Sonic the Hedgehog CG animated series tentatively known as "Sonic Boom". The show is set to debut on Cartoon Network in the US and CANAL J and GULLI in France, with additional territories to follow.
SEGA of America and Genao Productions are both working on the TV show. An initial batch of 52 eleven-minute episodes have been ordered.
Sonic Boom will make its debut in Fall 2014. An official overview can be found below.
Sonic Boom is a character-driven comedy that leaves a trail of robot wreckage in its smoldering wake. The series centers on Sonic, his best friend and sidekick, Tails, their never-ending search for adventure, and their battles with Sonic's arch-nemesis, Dr. Eggman. Rounding out the ensemble are fan favorites Knuckles and Amy Rose, plus a rogue's gallery of enemies—some familiar to Sonic fans and some brand-new.

Evan Baily, Donna Friedman Meir, and Jane McGregor, Executive Producers for SEGA, packaged the series, bringing together SEGA, Cartoon Network, and Genao Productions. Sandrine Nguyen and Boris Hertzog, Executive Producers for Genao, assembled a world-class lineup of partners in France, including broadcasters GULLI and CANAL J, Lagardere Entertainment Rights and Lagardère Active TV Licensing & New Business. Baily, Meir and Nguyen developed the series, and Hertzog and McGregor structured the financing and negotiated all the deals. Baily (formerly EVP of Production and Creative Affairs for Classic Media) and Co-Executive Producer Bill Freiberger (The Simpsons, Drawn Together) are showrunners. Takashi Iizuka, the head of Sonic Team and driving creative force behind the Sonic games, is overseeing the series to ensure that it's true to the Sonic characters and universe.
Leave a Reply