Shipped, Puzzle Book coming to Switch tomorrow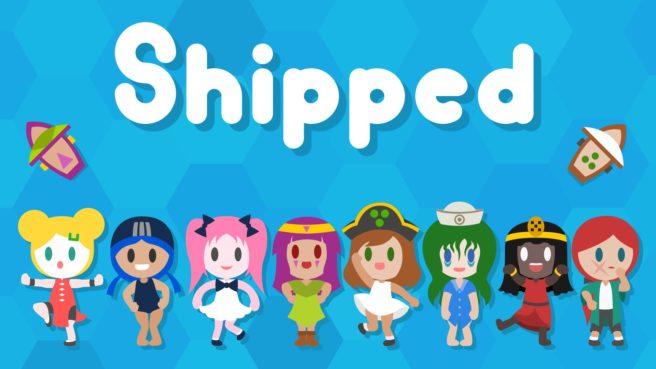 QubicGames has announced that it will publish two new games on Switch tomorrow. Along with the party title Shipped, we'll also be seeing the puzzle title Puzzle Book on the eShop.
Here's additional information about both releases:
Shipped is a cute party game where up to 8 players compete in battles on sea. Choose your favorite girl and start sailing. Navigation is easy, but a twist is that your ship can't break, so manoeuvres can be tricky. It all makes Shipped easy to start but hard to master.

Your main goal is to defeat opponents and survive. Grab ammo, shot you enemies, deflect upcoming cannonballs back to them or push them to land. Remember to keep up with the movement of the camera – if your ship goes off-screen, it will instantly explode!

Thanks to the many various game modes, Shipped is enough for hours of fun with friends. For single-player, you can always add Ai-controlled players or the challenges in arcade mode.

Features:

– Local multiplayer for 2-8 players.
– Arcade single-player mode or AI-controlled players for solo play.
– Five different game modes: Cruise, Chase, Race, Yincana, Sumo.
– Fun and straightforward mechanics.
– Lovely characters, colorful graphics, and a pleasant soundtrack.
– Over 95% positive reviews from PC players!
Puzzle book offers 34 different puzzles to solve, divided into themes – from fantasy to dinosaurs. Arts for this game were made by artist specialized in various styles. They are beautiful paintings of creatures and landscapes or simpler drawings for kids. There is something for everyone!

Speaking of everyone, you can adjust the difficulty by selecting the number of fragments per puzzle – from 6 to as much as 60! It's a great title for both children and adults. Add peaceful music that plays in the background and you've got a great, relaxing afternoon.

Hungry for some competition? Or you just want to assemble pieces with friends or family? Try co-op mode! Just share a Joy-Con with another person and start doing puzzles together.

Features:

– 34 different puzzles to solve, divided into themes.

– Each stage has 6 difficulties – from 6 pieces to 60.

– Beautiful arts created by various artists.

– Play solo or with a friend in co-op mode.

– Use the touchscreen or Joy-Con controller
Pricing for Shipped is set at $5.99. Puzzle Book will cost another $3.99.
Source: QubicGames PR
Leave a Reply