Shoot 'em up Moon Dancer coming to Switch in the West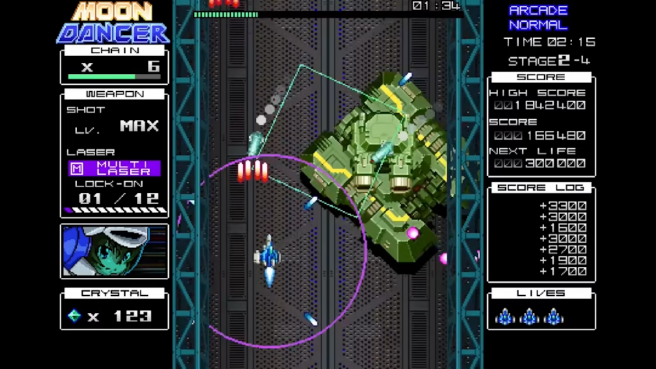 Publisher Regista has announced that Moon Dancer will be making its way to Switch in the West very soon. The game had already released in Japan back in July, but it'll now release in North America and Europe on September 29, 2022.
Moon Dancer is a sci-fi vertical shoot 'em up in which you control the titular ship Moon Dancer blasting your way through waves of enemies. The focus of this title is on your ability to lock-on to enemies before unleashing a barrage of lasers, which is your main method of attacking. The game features a standard Arcade mode as well as a 3-minute time attack Caravan mode, with local and online rankings available for both.
Here is an overview for Moon Dancer:
Moon Dancer is a vertically scrolling shmup featuring exhilarating lock-on lasers.

Exhilarating lock-on lasers
Operate the fighter "Moon Dancer" equipped with shots and lock-on lasers to defeat the enemy.
This game requires you to quickly defeat the enemies that appear one after another.
The feature of this game is the balance that prioritizes attacking the enemy rather than avoiding bullets.

Pop and cool art style
The Nintendo Switch™ version has enhanced graphics by Tenmaru.

Includes "Arcade Mode" and "Caravan Mode"
Arcade mode consists of 8 stages. You can choose from 3 levels of difficulty.
If you break through all the stages, the mission will be completed.
Caravan mode is a 3-minute limited challenge to get a high score.

In all modes, Local ranking and online ranking are supported.

Music
Two types of music are included: the original version by HIROKKEY and the chiptune arrangement version by Taku Shiiba.
Music can be switched in the option menu.
Take a look at a trailer for the game below:
Moon Dancer will be sold digitally on Switch. Pricing is set at $18.99, but it'll be sold at $10.99 up until October 21.
Leave a Reply