Slain: Back From Hell coming to Switch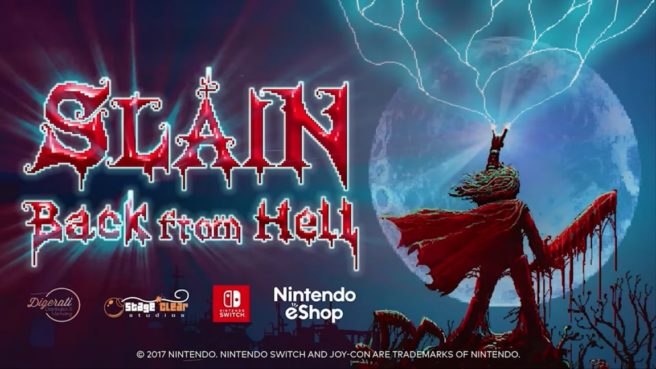 Some of you may remember Slain, a game we covered on the site a number of times in the past. The game was slated for Wii U. Unfortunately, it was cancelled after Digerati Distribution decided that sales on the system were "just too weak to justify the port".
Wii U is mostly out of the picture at the point, but Nintendo does have a new console on the market. Digerati Distribution seems to be taking advantage of the opportunity, and Slain: Back From Hell is coming to Switch. A listing on the European eShop reveals the news.
We have the following overview and trailer from the listing:
You control the fate of Bathoryn, a doomed hero in a Gothic world, who seeks to liberate six cursed realms from six deadly overlords.

He must battle his way through this blighted land, packed with gruesome pixel art foes before ascending (or sometimes descending) into a stronghold, all the while defeating fiendish traps and vile monsters alike.

Accompanied by the heavy metal visuals is an even heavier metal soundtrack recorded by Curt Victor Bryant (formally of Celtic Frost).

Features

– Challenging 'elemental'- based melee and magical combat
– 6 hours of bone-crushing, metal-fueled mayhem & gore
– Choose from 3 unique weapons in your fight against the demon hordes.
– Full soundtrack recorded by Curt Victor Bryant formally of Celtic Frost. \m/
– Cunningly concealed secrets (shhh).
– Boss fights, mini-boss fights, sub-mini- boss fights & macro-sub- mini-boss fights.
– No laborious levelling, no tedious grinding, no wimpy crafting!
Slain: Back From Hell currently shows a December 7 release date on the European Switch eShop. If anything changes, we'll let you know. We also expect the North American version to launch at the same time.
Source: Switch eShop
Leave a Reply