Snack World: The Dungeon Crawl – Gold finally coming to North America and Europe on February 14, 2020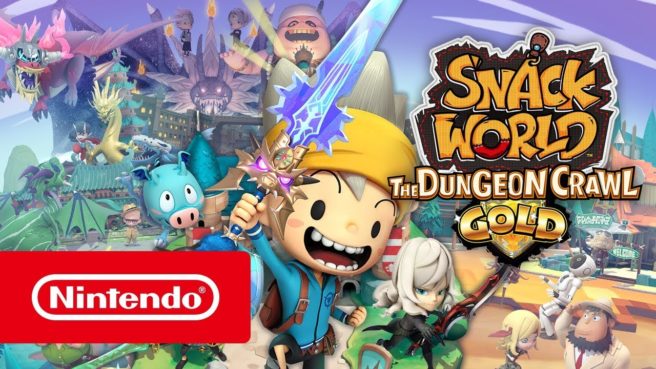 After a very long wait, Level-5's dungeon crawling RPG Snack World: The Dungeon Crawl – Gold is coming west. Nintendo announced today that it will publish the game on Switch on February 14, 2020. That news applies to both North America and Europe.
Here's the full announcement:
What happens when high fantasy, high comedy, and a high-tech setting collide? A veritable feast of thrilling action, saucy snark, and outrageous food puns! The Snack World: The Dungeon Crawl – Gold game, the one-of-a-kind dungeon crawling RPG from Level-5, arrives on the Nintendo Switch system on Feb. 14, 2020.

Danger threatens Snack World when the evil mogul Sultan Vinegar attempts to resurrect the Deodragon, Smörg Åsbord. In this roguelike adventure, customize your character and join the heroic treasure hunters Chup, Mayonna, and the gang as they make their way through a slapstick comedy-filled quest to restore order to the land of Tutti-Frutti.

Before setting out, prepare for the next adventure by shopping at curiously state-of-the-art convenience stores for supplies, optimizing your gear and more. During your crawl through each procedurally generated dungeon, search for treasure while dodging treacherous traps and defeating brutal bosses. Use "snacks" to summon special allies that assist in battles; change up your equipment, called "jaras," on the fly; and capitalize on consumables to gain an edge in combat. Team up with friends to take down big bosses with even bigger attitudes in online* and local co-op for up to four players.

Whether you're breaking wind or breaking the fourth wall, this meta-adventure through a hilarious parody of classic RPG touchstones is sure to make you smile.

For more information about Snack World: The Dungeon Crawl – Gold, visit https://www.nintendo.com/games/detail/snack-world-the-dungeon-crawl-gold-switch/. It's outlandish. It's silly. And it's coming to Nintendo Switch on Feb. 14, 2020 at a suggested retail price of $49.99.
We have a trailer for Snack World: The Dungeon Crawl – Gold below.
Source: Nintendo PR
Leave a Reply