Sneaky Ninja dev says the Wii U version is still happening, reconfirms Switch as a possibility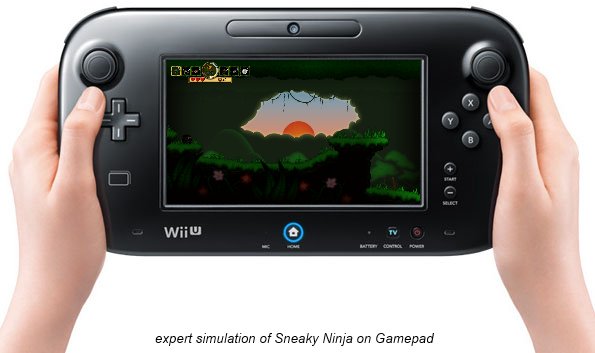 Wii U owners have nothing to worry about when it comes to the release of Sneaky Ninja. In a Kickstarter update, Starfall Studios said that Sneaky Ninja is still targeted for the console. Although other companies have been pulling away from Wii U, the indie developer still wants to make it happen after the long wait for Kickstarter backers and being a fan of Nintendo.
That being said, Switch is still on the table as a possibility down the road. Starfall Studios will first need to launch the game – which could take place in February – and then bring it to Wii U shortly after.
Starfall Studios wrote on Kickstarter:
Hey everyone! It's been a while since our last Kickstarter update, and while I plan to do a bigger one soon, I wanted to put out a quick update on the Wii U version of Sneaky Ninja. It seems the popular thing to do this week is to confirm whether or not games are still releasing on Wii U, and I'm happy to say that yes, the Sneaky Ninja on Wii U IS still happening!

I understand the decisions that other developers have made on this topic, and honestly, it's probably the wise business decision to move onto the Switch instead. And we know a lot of gamers simply won't care because it's too late. But I've kept our backers waiting for too long to do that now, so even if it sells zero units to anyone else, it's still worth doing in my eyes. Plus, I'm a Nintendo fan too, so I couldn't cancel it even if I wanted to! A Switch version is definitely possible in the future as well, but there's plenty of time to think about that later.

As for the release date… as I discussed in the comments of the last update, a holiday 2016 release was on shaky grounds back then due to so many other big games launching. I'm now targeting early February for PC which seems to be a good window for Sneaky Ninja, and I'm confident this will finally happen. I can't be as certain for the Wii U version's date though, which will be as soon as possible afterwards but it's hard to say how soon. I'd love to release it before the Switch, but I can't promise that'll happen. But the Wii U version itself WILL happen!
Leave a Reply