Sonic Frontiers coming to Switch Holiday 2022, debut trailer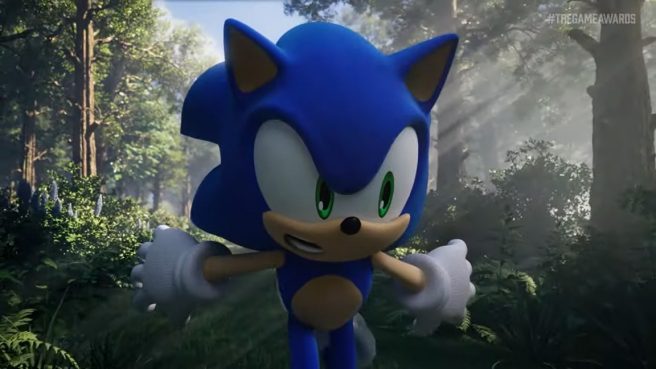 At The Game Awards 2021 today, SEGA provided an update on the next mainline 3D Sonic the Hedgehog game – which now has a confirmed name of Sonic Frontiers. The title will launch for Switch in Holiday 2022.
Of the new project, SEGA teases: "An experience like never before, accelerate to new heights and experience the thrill of high velocity, open-zone freedom." The action will take place in an area known as Starfall Islands, which features "dense forests, overflowing waterfalls, sizzling deserts and more".
SEGA has confirmed that Sonic Frontiers is being made by "the experienced members of SEGA's Sonic Team Japan, led by producer Sachiko Kawamura and director Morio Kishimoto".
Takashi Iizuka, creative officer at Sonic Team USA, said of today's announcement:
"Sonic Frontiers is a huge leap forward for the franchise, delivering an evolved gameplay experience that can be enjoyed by longtime Sonic fans and action-adventure enthusiasts alike. With the effort of the talented developers at Sonic Team Japan, we've created an all-new style of gameplay experience for Sonic the Hedgehog, where players will be able to explore lush and expansive landscapes with Sonic's signature speed and abilities. There's sure to be lots of twists and turns around every corner in 'Sonic Frontiers,' and we're excited to unveil more information about the game over the coming months."
We've included the debut trailer for Sonic Frontiers below.
Sonic Frontiers was originally teased back in May. Today marks the first proper trailer for the game as well as an actual title.
Leave a Reply