Spintires: MudRunner in the works for Switch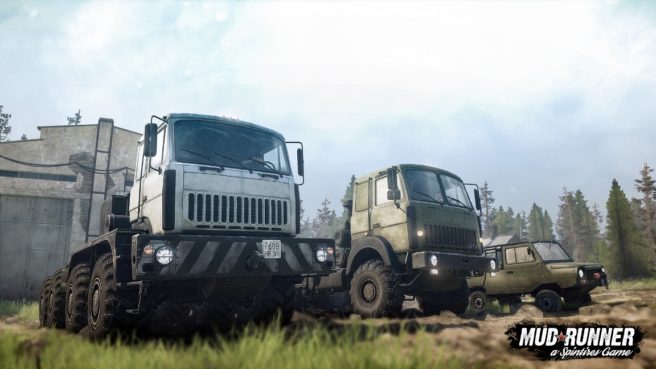 As part of its latest community update, the team behind Spintires: MudRunner has announced that a Switch version is in development. Specifics are mostly unknown at the moment since we only have this brief blurb:
Finally, a Nintendo Switch version of Spintires: MudRunner is currently being worked on. We don't have much more to say about this right now, but it is coming, and we'll have more news about it in the future!
Spintires: MudRunner primarily involves exploring sandbox environments in all-terrain vehicles, and completing various objectives along the way.
Continue on below for more on Spintires: MudRunner, including a trailer.
Spintires: MudRunner is the ultimate version of the million-seller indie hit Spintires. Like Spintires before it, Spintires: MudRunner puts players in the driver seat and dares them to take charge of incredible all-terrain vehicles, venturing across extreme landscapes with only a map and compass as guides!

A huge upgrade over its predecessor, this edition comes complete with a brand new Sandbox Map joining alongside the original game's 5, a total graphical overhaul, a new Challenge mode with 9 new dedicated maps, 13 new vehicles and other comprehensive improvements. It's not just an enhanced edition, it's the ultimate off-road experience!

Drive 19 powerful all-terrain vehicles, each with its own characteristics and attachable equipment. Complete your objectives and deliveries by enduring perilous conditions across wild, untamed landscapes in extreme conditions with dynamic day-night cycles. Explore an immersive sandbox environment, enhanced by improved graphics. Overcome muddy terrain, raging rivers and other obstacles that all realistically react to the weight and movement of your vehicle powered by the game's advanced physics engine.

With your map, compass, winch, and your driving skills as allies, go solo or join up to three others in the coop multiplayer. Download mods created by the passionate community for truck-loads of content and an ever-evolving Spintires: MudRunner experience.

– The ultimate version of the million-selling game Spintires
– A wider selection of 19 incredible all-terrain vehicles
– Explore an immense, untamed sandbox environment
– Overhauled graphics and advanced physics engine for extreme realism
– Complete perilous objectives and deliveries in extreme conditions
– New game mode for a greater challenger available for solo and 4 player-coop
Leave a Reply