Spirit of the North update out now (version 1.04)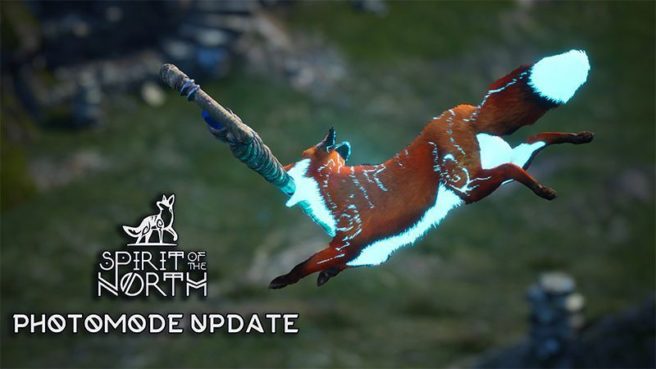 Spirit of the North was updated on Switch this week to version 1.04. It comes with new features, including a Photo Mode. Several improvements and bug fixes have also been implemented.
The full patch notes are as follows:
New Features

Photomode – Press 1 on the keyboard and D-Pad Down on the controller to enter Photomode and take awesome screenshots with ease!
3D Prompts UI – Instead of 2D prompts on the bottom left of the screen we now have 3D prompts that show up on a usable object.
Wisp Overhaul – the Wisp is now much more helpful to the player by chirping near objectives and leading the way.
Spirit Dash – now leaves a glowing trail behind.
Fox Stamina – You can now run as long as you want without having to slow down.

General

Improvement – Music selected in each Chapter now appropriately fits the mood. Playlists offer more variety throughout the whole game.
Improvement – Checkboxes on the options menu are now easier to see.
Improvement – Player can no longer Jump when in the "Sick" state.
Improvement – Dying in Chapter 1, 2, and 6 now drops staff if you are holding one.
Improvement – Fox can no longer Sneeze while dying in Chapter 1.
Improvement – Blueprint optimization overhaul, the game is overall much more optimized in terms of what is always loaded into memory.
Improvement – Change Music can no longer be trigger while in Spirit Form.
Improvement – Change music trigger won't change the music if the desired loop is already playing (won't randomly turn it off and back on).
Fixed – Issue that caused all shaman icons to show up on Chapter 7 and 8 where there should be none on the chapter select screen.
Fixed – Japanese localization issues.
Fixed – Issue that caused the foxes' mouth to be stuck open if the player was holding a Staff and entered Spirit Form.
Fixed – Releasing Spirit Bark while transitioning back to foxes body from spirit form would cause player to get stuck "charged up". Spirit Bark is now automatically released when spirit form ends.

Chapter 3

Fixed – Removed L_thumbstick prompt at end of Chapter_03

Chapter 4

Fixed -Part 4 now loads much more efficiently, causing less stuttering.
Fixed – Part 5 ground pressure plate jump gate was broken.

Chapter 5

Fixed – Issue that caused music to stop playing at the start of the chapter.

Chapter 6

Improvement – Dramatic changes to the music in Chapter 6.
Fixed – Dashing at certain times could cause the Wisp to not progress through the level correctly.
Fixed – Wisp returned to fox during the middle of the chapter.

Chapter 7

Improvement – Shaman Spirits are less likely to get stuck while walking around.
Improvement – After healing spirit fox in Chapter 7 large stone gate opens, (players can no longer open it and go through without healing spirit fox).
Fixed – Issue with some tree shadows disappearing at certain camera angles.
We have a trailer showing off the new Photo Mode below.
Leave a Reply