SpiritSphere DX announced for Switch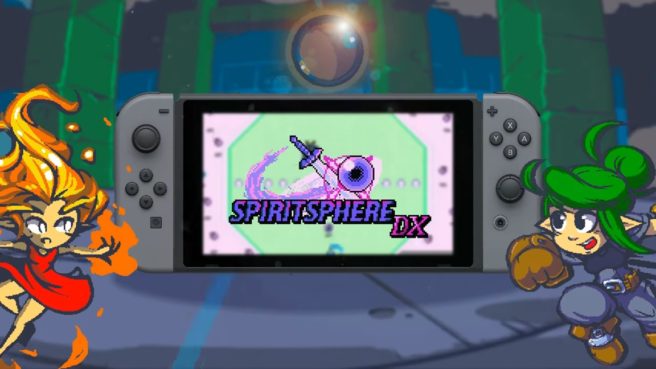 You may know Fabraz as the developer of Slime-san. But now the company is starting to get into the publishing business, and is teaming up with Eendhoorn to bring SpiritSphere DX to Switch.
SpiritSphere DX may remind you of something like Windjammers with its mix of tennis and a "magical beat down" gameplay. You can play alone and experience the single-player campaign or with a friend in local multiplayer.
Here's a rundown of features:
– Competitive local multiplayer action!
– Fast paced arcade style gameplay throughout!
– Singleplayer campaign with dialogue, special encounters & modes!
– Multiple stages, characters and spheres to play and unlock!
– Retro flavored graphics and sound mimicking the games of yore!
– Gameplay that is easy to pick up but hard to master!
– Squash mode: Play a round of competitive magical squash!
– Target mode: Break the targets in this challenging mode!
– Tate mode: Play the game vertically, each player holding one attached Joy-Con!
– Boss mode: More than two players but less than three? Play 2v1, where one player controls the boss!
– Ghost mode: Not a strong player but want to contribute? Join as a ghost for shenanigans!
SpiritSphere DX is slated for Spring 2018. Watch the game's first trailer below.
Source: Fabraz PR
Leave a Reply