Spy Bros.: Pipi & Bibi's DX gets new details, debut trailer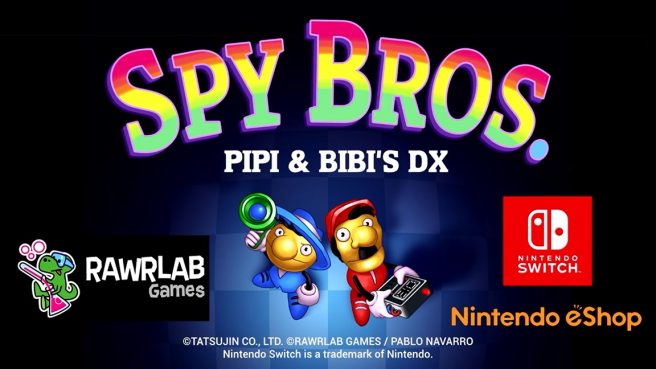 Rawrlab Games has shared new details on Spy Bros.: Pipi & Bibi's DX, a new version of Toaplan's arcade game.
It turns out that quite a bit of new content is planned, alongside different changes. The team has removed all erotic content, made the controls more responsive, took out "a few extremely difficult spots", added new modes, and more.
Here's the full rundown:
Pipi & Bibi's was a fun but unknown game. Few arcades dared to license it because of its erotic motif and high difficulty.

Spy Bros. is a remake of Pipi & Bibi's (also known as Whoopee in Japan), an eroge arcade video game originally developed and published by TOAPLAN in 1991, being Tatsujin Co. Ltd, the current owner of the license.

"Spy Bros. (Pipi & Bibi's DX)" is an single-screen action-platforming game reminiscent of Snow Bros and others of that time, where the players assume the role of Pipi and Bibi: two spies entering and bombing a series of six buildings protected by guards, scientists, divers, mob bosses, humanoid cats and other wacky individuals… and leaving the buildings just in time before they collapse from the explosions!

Spy Bros. new features
RAWRLAB Games, instead of just remaking the game with its 24 fun levels, is also improving a few gameplay issues, lowering its original extreme difficulty and adding new content, adding a lot of value to this new edition.

List of new features:

Women are heroins, not prizes. Removed all erotic content.

More responsive controls, zero input lag.

Removed a few extremely difficult spots that made the original game almost impossible to complete.

New fun bonus level after each zone.

3 new game modes:

Spy Sis. mode:

A totally different way to replay the game with fast-paced action mechanics starred by the "Spy Sisters".

Versus mode:

Instead of just cooperating, players will compete against (and mess with!) each other to see who plants the most bombs!

Time trial mode:

Complete the levels against the clock and beat your times!

New endings (2 of them!)

Visual options:

Original pixel-art or AI upscaled graphics.

CRT effect.

6 different bezels.

No stretched mode, of course. Please, love your pixels.
The first trailer for Spy Bros.: Pipi & Bibi's DX can be found below.
Spy Bros.: Pipi & Bibi's DX launches on Switch this winter. Pricing is set at $7.99.
Source: Rawrlab Games PR
Leave a Reply