Squad 51 vs. The Flying Saucers out on Switch next week, new trailer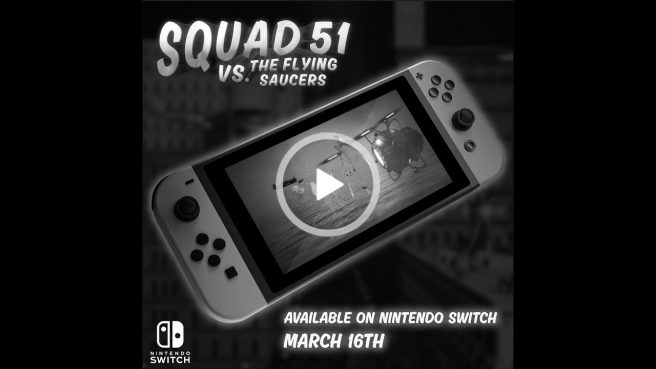 After it was first announced several years ago, a release date has been announced for the Switch version of Squad 51 vs. The Flying Saucers. It's due out on March 16, 2023.
Squad 51 vs. The Flying Saucers is a cinematic 2D shoot 'em up game that has players banding together with a group of rebels and claiming extraterrestrial victory. More information can be found in the following overview:
Visitors from the stars have arrived on Earth with the promise of a bright future for all humankind. The façade quickly falls, revealing the true evil nature of the intergalactic Vega Corporation and their horrific leader, Director Zarog. Through humanity's oppression, hope rises with the birth of a rebel cause. Step into the cockpit as Lieutenant Kaya, and lead Squadron 51 on a campaign to take down the Vega Corporation once and for all!

Squad 51 vs. The Flying Saucers transports players to the glorious days of the 1950s through an authentic black and white cinematic aesthetic. Take control of four different aircrafts, all with their own unique set of weapons and abilities. Fly through eleven levels and take down the galactic invaders across arctic mountains, lush forests, and battered cities. With cooperative play, a friend can join in at any time to help you take down the waves of enemies and ruthless bosses.

Key Features

Classic gameplay: Squad 51 vs. The Flying Saucers is a shoot 'em up game with four different aircrafts to play and set up with special weapons.
Cinematic experience: Glorious black-and-white aesthetics, live-action FMV sequences and dubbed voices will tell the story of the battle between the squadron and Director Zarog's alien supremacy.
Eleven levels: Fight against enemy ships and bosses in many different environments – snowy mountains, forests, cityscapes, and many others.
Dynamic difficulty: Rookie or veteran, Squad 51 vs. The Flying Saucers supports dynamic difficulty which allows every pilot to enjoy the fight.
Multiplayer: Feeling lonely shooting down aliens? Invite a friend! A second player can enter a level at any time. Earn points with your friend and unlock new special weapons and upgrades together.
A trailer celebrating the Switch release date news for Squad 51 vs. The Flying Saucers is available below.
Leave a Reply